A lease violation notice is a letter that a landlord writes to a tenant to let him know (actually to warn) he broke the rules of his lease agreement.
This letter tells the tenant what he did wrong and asks them to fix it within a certain amount of time.
I believe we all know that lease agreement contains all terms and conditions to be abided by a tenant.
In fact, total abidance would only be possible if we would be renting to Angels.
But the truth is tenants are also human beings, so they can intentionally or unintentionally violate your lease agreement.
The good news is, there is the best legal way to deal with them.
What's that?
Well!
Send them a lease violation notice also called a lease violation letter or lease violation warning letter.
With a well-written lease violation notice, you can quickly deal with any sort of lease violation from your tenant.
It will assist you in informing a tenant about the violation, warning him, and giving him a reasonable time to correct the issue before terminating the lease or asking him to vacate your property.
For rent payment violations you may use a late rent note and/or notice to pay rent or quit.
To help you get the most out of it, here I will guide you in everything you need to know about lease violation notice including
What is a lease violation notice?
Is a lease violation letter legally binding?
Why do you need a lease violation notice?
When to send a lease violation letter
What if your lease violation notice did not work?
How to write a strong lease violation notice
lease violation notice example
lease violation notice pdf
etc.
Let's get started
Related:
What is a lease violation notice?
A lease violation notice is a brief statement of facts written by a landlord to notify or warn the tenant that he violates the lease and ask him to fix the violations within a specified time.
This letter is applicable to any form of lease violation.
For instance, In your lease agreement, you have a clause that allows a tenant to bring only 2 pets onto your leased property. Out of nowhere, you have found that John, your tenant, has brought 4 Dogs.
In that scenario, John is violating the lease and the initial way to deal with him is to warn him through a lease violation notice.
The same applies to the smoking tenant.
If your lease agreement prohibits smoking then any smoking activity on your premise will amount to a lease violation and you will need a violation notice to address the situation.
There are many examples, but I can't give you all of them here.
I think those two are enough to make you understand how a lease violation notice works.
Why do you need a lease violation notice?
I think I don't need a lot of words to tell you why you need a lease violation notice.
As I said before, a lease violation notice is a simple letter through which you inform the tenant about his lease violation.
Your notice will act as a reasonable and fair reminder to the tenant to resolve the problem and comply with the lease agreement as soon as possible before you resort to coercive measures.
As a result, a well-written lease violation notice can help you;
Quickly react to lease-violating activities
Maintain a good relationship with your tenant.
Comply with the lease agreement and federal landlord-tenant laws regarding notices and evictions.
Once successful it will help you avoid the time-consuming, costly, and stressful eviction and other court processes.
Is a lease violation notice legally binding?
Generally, a lease violation notice is NOT legally binding.
Your tenant is not legally forced to abide by your notice.
The police or the court will be unable to enforce your notice because it lacks legal authority.
If the tenant's response becomes more unfavorable, you may need to take additional legal action that you will learn later in this post.
When to send a lease violation notice
Generally, that will whole depends on various factors.
Local regulations, the terms of the lease, and the nature of the violation may determine when you should send a lease violation notice to your tenant.
But for the greatest impact, I recommend you to send your notice as soon as you become aware of the violations and give the tenant a prompt opportunity to rectify it.
Why am I recommending that?
Good!
Sending your notice at the earliest time possible will help you minimize the impact of the violation and provide both of you with a good opportunity to remedy the situation.
The quicker you react the quicker you will reach the final decision.
That was about TIME.
Now let's look at the lease violation examples that will trigger a lease violation warning.
Your tenant does not pay rent on time.
Your tenant has subleased a premise without your permission
Your tenant is bringing on the premise more than allowed pets
Your tenant has unauthorized occupants living in the house.
Your tenant is going against maintenance conditions.
Your tenant is going against smoking rules
Your tenant is using the property for illegal purposes
etc.
What if your lease violation notice did not work?
There is no guarantee that your violation warning must work.
Sometimes your tenants may, in one way or another fail to heed your notice.
Here is what you can do;
TERMINATE your lease agreement.
Send a termination/eviction notice (see a sample eviction letter here)
File eviction (unlawful detainer) suit. (each State has its own procedure, eg. California, Texas, North Carolina, etc.)
Sue for any damages caused by violations (don't forget to do this)
How to write a strong lease violation notice
A lease violation notice is written in the format of a business letter. Begin your letter with your address and contact information, then a date and the tenant's address, and state that you are writing to notify about a certain lease violation (mention the violation) and demand an immediate fix. Tell the tenant what will happen if they will fail to fix the situation within the specified time.
Finish with "Sincerely," followed by your name and signature.
REMEMBER! Your lease violation notice's purpose is to inform the tenant about the violation and ask him to fix it.
So, in order to write a strong lease violation warning, do the following.
Provide your name, address, and contact information
Include the date of the letter
Include your tenant's  names, addresses, and contact information
Provide your rental property address, including the unit number if applicable
Cleary specify or describe the violation
Indicate the date the lease violation occurred or started
Make reference to your lease agreement. Specify the provision(s) violated.
Specify the time for rectification
Explain what will happen if he fails to rectify
State what will happen if the violation occurs again.
Be straightforward
Maintain a professional tone
Be honest
additional tips
Send the letter by certified mail so that you have proof that it was delivered. (use the service address provided under your lease agreement.)
Keep a copy
Lease violation notice example
The following is the sample lease violation notice to a tenant
[Your Name]
[Address as Provided on Lease Agreement]
[City, State, ZIP Code]
[Date]
[Tenant's Name]
[Address as provided on Lease Agreement]
[City, State, ZIP Code]
Dear Mr/Mrs/Ms/ [tenant's last name]
You are hereby notified that you are in violation of our Lease Agreement dated [effective date of the lease agreement] in relation to [name and address of the leased premise]
The violations committed include;
Noise violation: I've had several complaints from your neighbors that you've been rehearsing your drum solo in the middle of the night since [date].
Violation of the pets policy: Clause 9 of our lease agreement only allows for two pets on the premises, but on [date] I discovered that you have six.
I respectfully request that you correct the aforementioned violations within seven (7) calendar days of receiving this letter, or I will terminate our lease agreement.
Please contact me at [email] or [phone] if you have any queries about this notice.
NB: This notice is sent in accordance with clause 11 [notices clause] of our lease agreement.
Sincerely
Signature
Your Name
Lease violation notice pdf
The following is a simple ease violation notice in pdf format. You can free download it for your offline use.
The following sample violation warning for unauthorized occupant.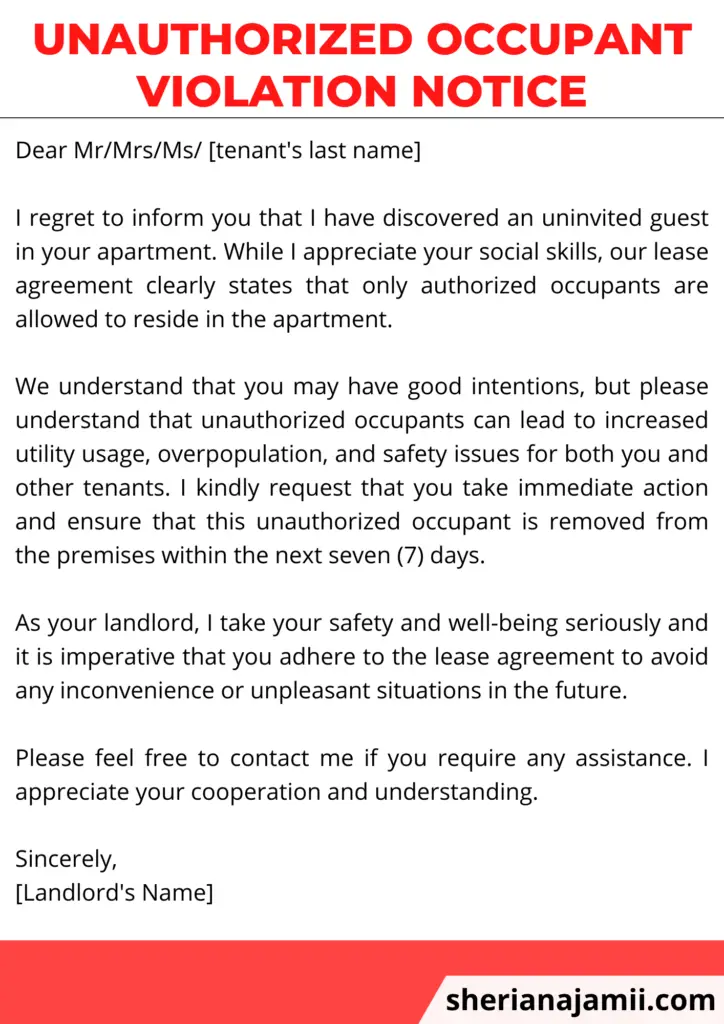 Dear Mr/Mrs/Ms/ [tenant's last name]
I regret to inform you that I have discovered an uninvited guest in your apartment. While I appreciate your social skills, our lease agreement clearly states that only authorized occupants are allowed to reside in the apartment.
We understand that you may have good intentions, but please understand that unauthorized occupants can lead to increased utility usage, overpopulation, and safety issues for both you and other tenants. I kindly request that you take immediate action and ensure that this unauthorized occupant is removed from the premises within the next seven (7) days.
As your landlord, I take your safety and well-being seriously and it is imperative that you adhere to the lease agreement to avoid any inconvenience or unpleasant situations in the future.
Please feel free to contact me if you require any assistance. I appreciate your cooperation and understanding.
Sincerely,
[Landlord's Name]
The following is a sample violation notice for Unauthorized occupants in pdf format. You can free download it for your offline use.