Throughout my career, I have written hundreds of motivation letters for various purposes, including volunteering, scholarships, and more.
I still write these letters to this day, and my experience has taught me a great deal about what works and what doesn't.
With over 10,000 hours of practice and refinement, I have honed my skills and now have a collection of powerful and effective motivation letter examples to share with you.
But before that;
Let me tell you what is a motivation letter.
A motivation letter is a short document that you write to express your reasons and intentions for pursuing a particular opportunity, such as applying for admission to a college or university, seeking employment at a non-profit organization, expressing interest in volunteering for a cause, or applying for an internship program.
This letter provides an opportunity for you to showcase your qualifications, experiences, and personal attributes that align with the requirements and expectations of the opportunity you are seeking.
From my experience, I can say that a motivation letter is not just a letter, it is a PERSUASIVE TOOL for you to convince the recipient of your suitability and passion for a certain opportunity.
Now let's see the samples.
See also: Motivation  letter for job application
Example 1: Motivation Letter for Volunteering
The following is an example of a motivation letter for a volunteer position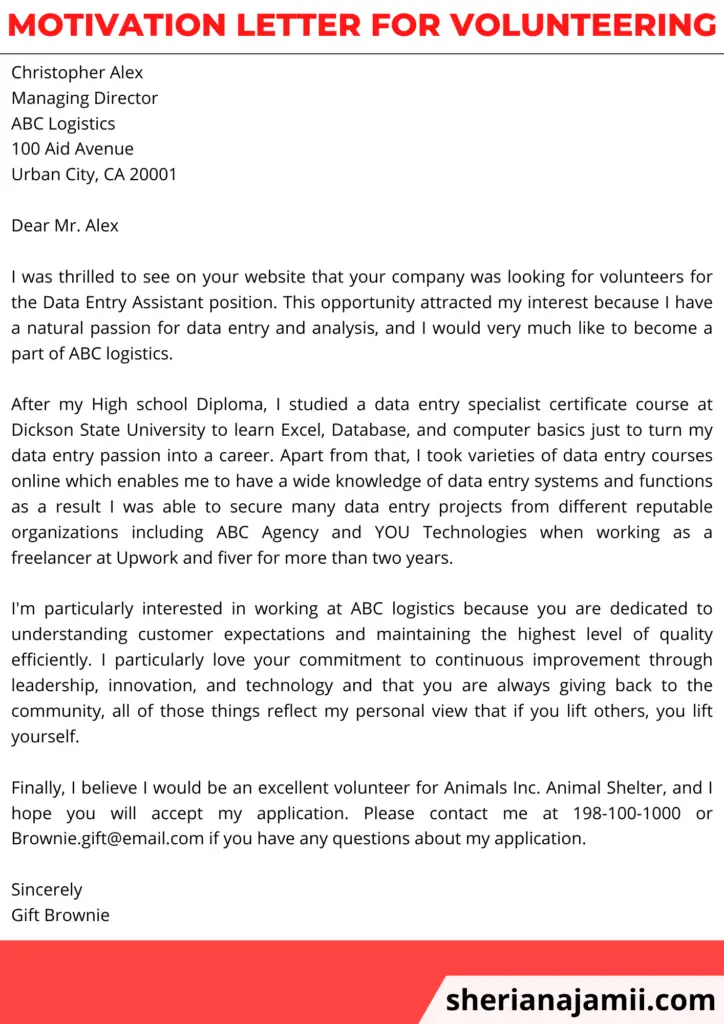 Gift Brownie
100 Extra Street
Downtown, CA 20000
198-100-1000
Brownie.gift@email.com
01/01/2030
Christopher Alex
Managing Director
ABC Logistics
100 Aid Avenue
Urban City, CA 20001
Dear Mr. Alex
I was thrilled to see on your website that your company was looking for volunteers for the Data Entry Assistant position. This opportunity attracted my interest because I have a natural passion for data entry and analysis, and I would very much like to become a part of ABC logistics.
After earning my High school Diploma, I enrolled in a data entry specialist certificate course at Dickson State University to learn Excel, Database, and computer basics with the aim of turning my passion for data entry into a career. Additionally, I took various data entry courses online, which broadened my knowledge of data entry systems and functions. As a result, I secured numerous data entry projects from reputable organizations, including ABC Agency and YOU Technologies, while working as a freelancer on Upwork and Fiverr for over two years.
I'm particularly interested in working at ABC logistics because you are dedicated to understanding customer expectations and maintaining the highest level of quality efficiently. I particularly love your commitment to continuous improvement through leadership, innovation, and technology and that you are always giving back to the community, all of those things reflect my personal view that if you lift others, you lift yourself.
Finally, I believe I would be an excellent volunteer for Animals Inc. Animal Shelter, and I hope you will accept my application. Please contact me at 198-100-1000 or Brownie.gift@email.com if you have any questions about my application.
Sincerely
Gift Brownie
Example 2: Motivation Letter for school/college admission
The following is an example of a motivation letter for a school/college admission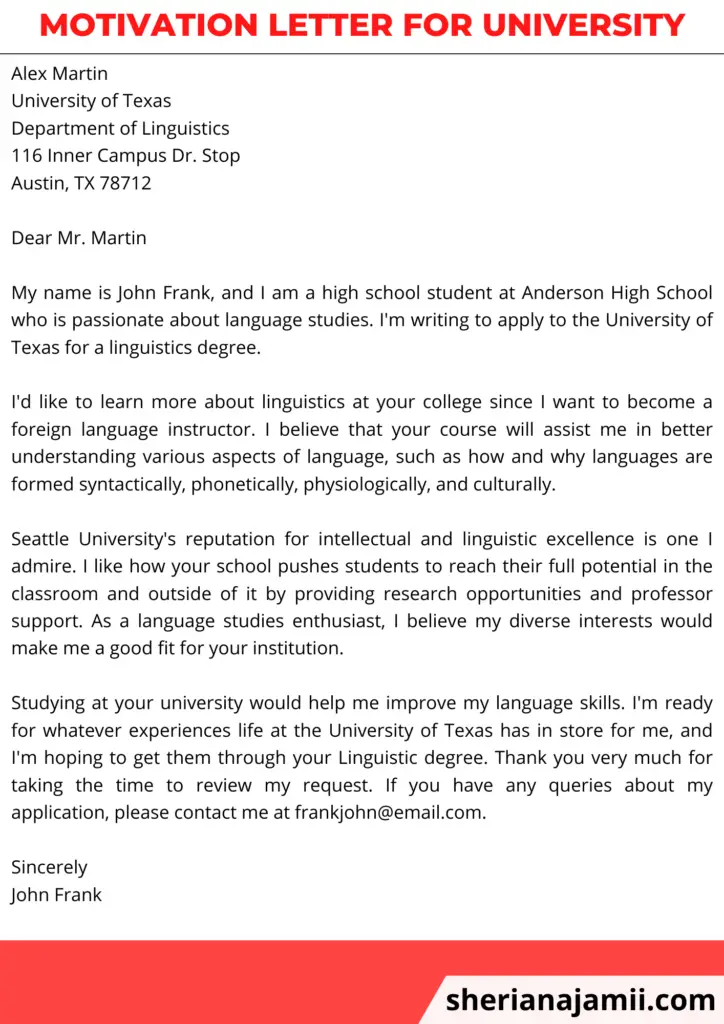 John Frank
101 UpStreet
Stone  town, TX 2001o
198-100-5555
frankjohn@email.com
01/01/2030
Alex Martin
University of  Texas
Department of Linguistics
116 Inner Campus Dr. Stop
Austin, TX  78712
Dear Mr. Martin
My name is John Frank, a high school student at Anderson High School who is passionate about language studies. I'm writing to apply to the University of Texas for a linguistics degree.

I am interested in learning more about linguistics at your college because I aspire to become a foreign language instructor. I believe that your course will help me gain a better understanding of various aspects of language, including the syntactic, phonetic, physiological, and cultural factors involved in language formation.
I admire Seattle University's reputation for intellectual and linguistic excellence. Your school's focus on pushing students to reach their full potential both inside and outside the classroom by providing research opportunities and professor support is impressive. As a language studies enthusiast, I believe that my diverse interests would make me an excellent fit for your institution.
Studying at your university would help me improve my language skills. I'm ready for whatever experiences life at the University of Texas has in store for me, and I'm hoping to get them through your Linguistic degree. Thank you very much for taking the time to review my request. If you have any queries about my application, please contact me at frankjohn@email.com.
Sincerely
John Frank
Example 3: Motivation  letter for scholarship application
The following is an example of a motivation letter for a scholarship application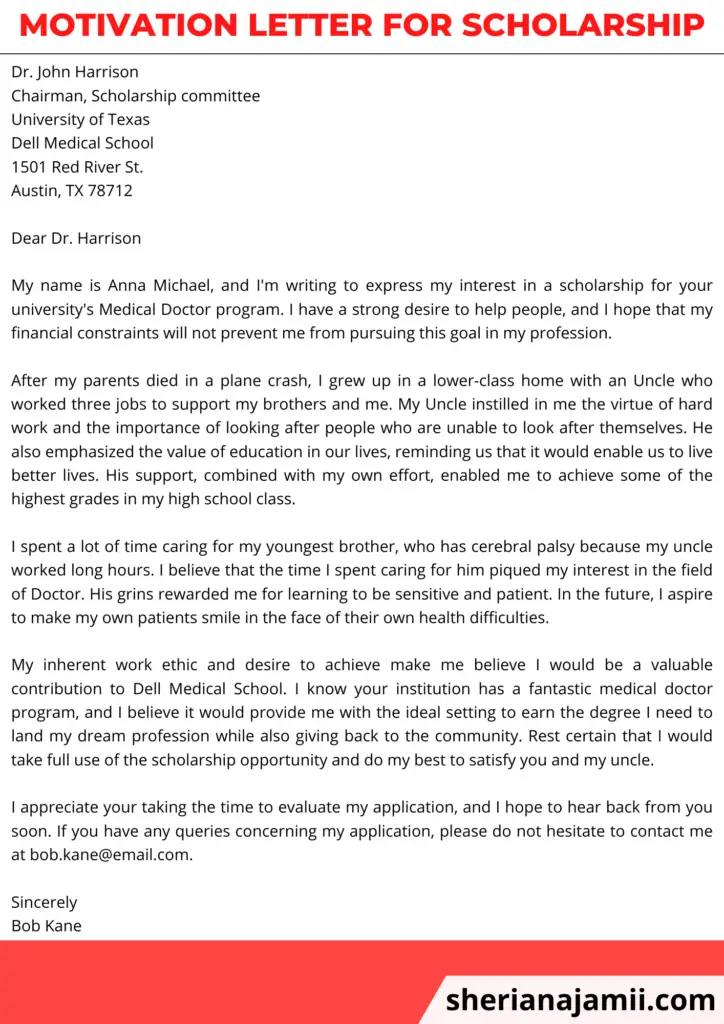 Bob Kane
101 Hope Avenue
Stone  town, TX 78000
198-100-5555
bob.kane@email.com
01/01/2030
Dr. John Harrison
Chairman, Scholarship committee
University of  Texas
Dell Medical School
1501 Red River St.
Austin, TX  78712
Dear Dr. Harrison
My name is Anna Michael, and I'm writing to express my interest in a scholarship for your university's Medical Doctor program. I have a strong desire to help people, and I hope that my financial constraints will not prevent me from pursuing this goal in my profession.
After my parents died in a plane crash, I grew up in a lower-class home with an Uncle who worked three jobs to support my brothers and me. My Uncle instilled in me the virtue of hard work and the importance of looking after people who are unable to look after themselves. He also emphasized the value of education in our lives, reminding us that it would enable us to live better lives. His support, combined with my own effort, enabled me to achieve some of the highest grades in my high school class.
I spent a lot of time caring for my youngest brother, who has cerebral palsy because my uncle worked long hours. I believe that the time I spent caring for him piqued my interest in the field of Doctor. His grins rewarded me for learning to be sensitive and patient. In the future, I aspire to make my own patients smile in the face of their own health difficulties.
My inherent work ethic and desire to achieve make me believe I would be a valuable contribution to Dell Medical School. I know your institution has a fantastic medical doctor program, and I believe it would provide me with the ideal setting to earn the degree I need to land my dream profession while also giving back to the community. Rest certain that I would take full use of the scholarship opportunity and do my best to satisfy you and my uncle.
I appreciate your taking the time to evaluate my application, and I hope to hear back from you soon. If you have any queries concerning my application, please do not hesitate to contact me at bob.kane@email.com.
Sincerely
Bob Kane
Example 4: Motivation letter for internship application
The following is an example of a motivation letter for an internship application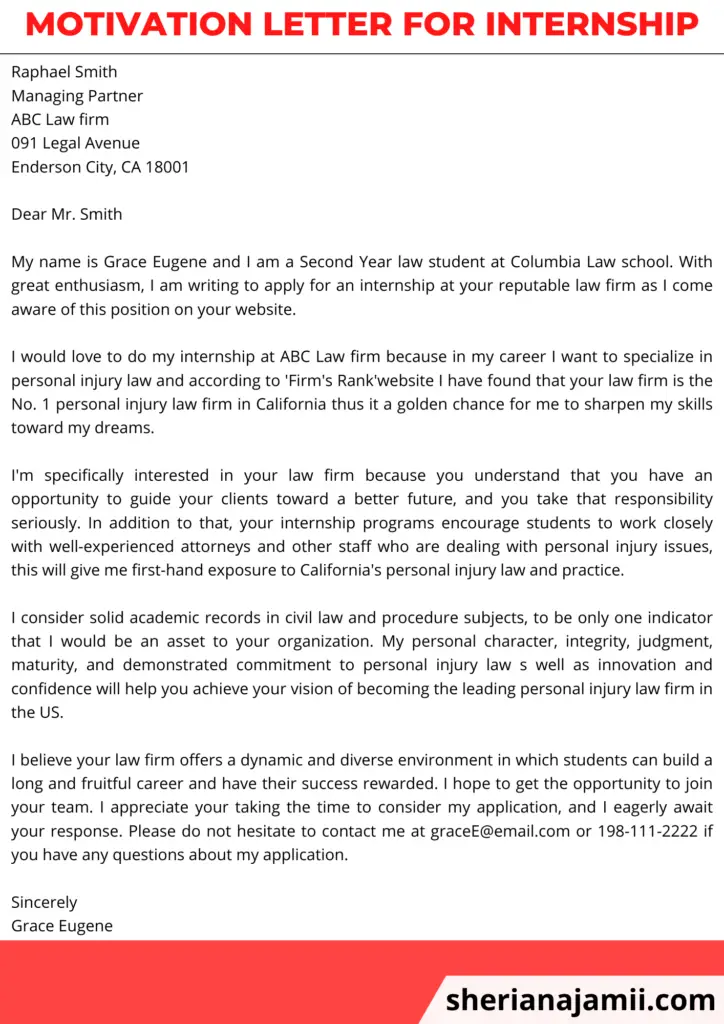 Grace Eugene
101 Good Avenue
Downtown, CA 18000
198-111-2222
grace@email.com
01/01/2030
Raphael Smith
Managing Partner
ABC Law firm
091 Legal Avenue
Enderson City, CA 18001
Dear Mr. Smith
My name is Grace Eugene and I am a Second Year law student at Columbia Law school. With great enthusiasm, I am writing to apply for an internship at your reputable law firm as I come aware of this position on your website.
I would love to do my internship at ABC Law firm because in my career I want to specialize in personal injury law and according to 'Firm's Rank'website I have found that your law firm is the No. 1 personal injury law firm in California thus it a golden chance for me to sharpen my skills toward my dreams.
I'm specifically interested in your law firm because you understand that you have an opportunity to guide your clients toward a better future, and you take that responsibility seriously.  In addition to that, your internship programs encourage students to work closely with well-experienced attorneys and other staff who are dealing with personal injury issues, this will give me first-hand exposure to California's personal injury law and practice.
I consider solid academic records in civil law and procedure subjects, to be only one indicator that I would be an asset to your organization. My personal character, integrity, judgment, maturity, and demonstrated commitment to personal injury law s well as innovation and confidence will help you achieve your vision of becoming the leading personal injury law firm in the US.
I believe your law firm offers a dynamic and diverse environment in which students can build a long and fruitful career and have their success rewarded. I hope to get the opportunity to join your team. I appreciate your taking the time to consider my application, and I eagerly await your response. Please do not hesitate to contact me at graceE@email.com or 198-111-2222 if you have any questions about my application.
Sincerely
Grace Eugene
Example 5: Motivation letter for a non-profit organization
The following is an example of a motivation letter for a non-profit organization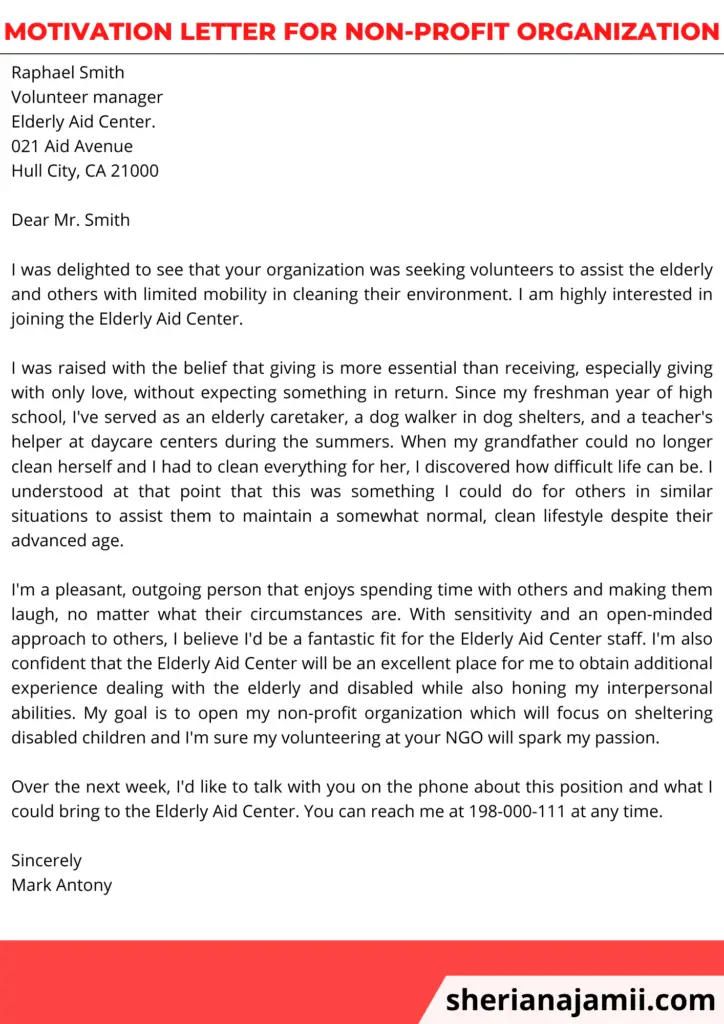 Mark Antony
101 Rare Avenue
East Coast CA 20000
198-000-1111
grace@email.com
01/01/2030
Raphael Smith
Volunteer manager
Elderly Aid Center.
021 Aid Avenue
Hull City, CA 21000
Dear Mr. Smith
I was delighted to see that your organization was seeking volunteers to assist the elderly and others with limited mobility in cleaning their environment. I am highly interested in joining the Elderly Aid Center.
I was raised with the belief that giving is more essential than receiving, especially giving with only love, without expecting something in return. Since my freshman year of high school, I've served as an elderly caretaker, a dog walker in dog shelters, and a teacher's helper at daycare centers during the summers. When my grandfather could no longer clean herself and I had to clean everything for her, I discovered how difficult life can be. I understood at that point that this was something I could do for others in similar situations to assist them to maintain a somewhat normal, clean lifestyle despite their advanced age.
I'm a pleasant, outgoing person that enjoys spending time with others and making them laugh, no matter what their circumstances are. With sensitivity and an open-minded approach to others, I believe I'd be a fantastic fit for the Elderly Aid Center staff. I'm also confident that the Elderly Aid Center will be an excellent place for me to obtain additional experience dealing with the elderly and disabled while also honing my interpersonal abilities. My goal is to open my non-profit organization which will focus on sheltering disabled children and I'm sure my volunteering at your NGO will spark my passion.
Over the next week, I'd like to talk with you on the phone about this position and what I could bring to the Elderly Aid Center. You can reach me at 198-000-111 at any time.
Sincerely
Mark Antony
Example 6: Motivation letter for training programme
The following is an example of a motivation letter for training programme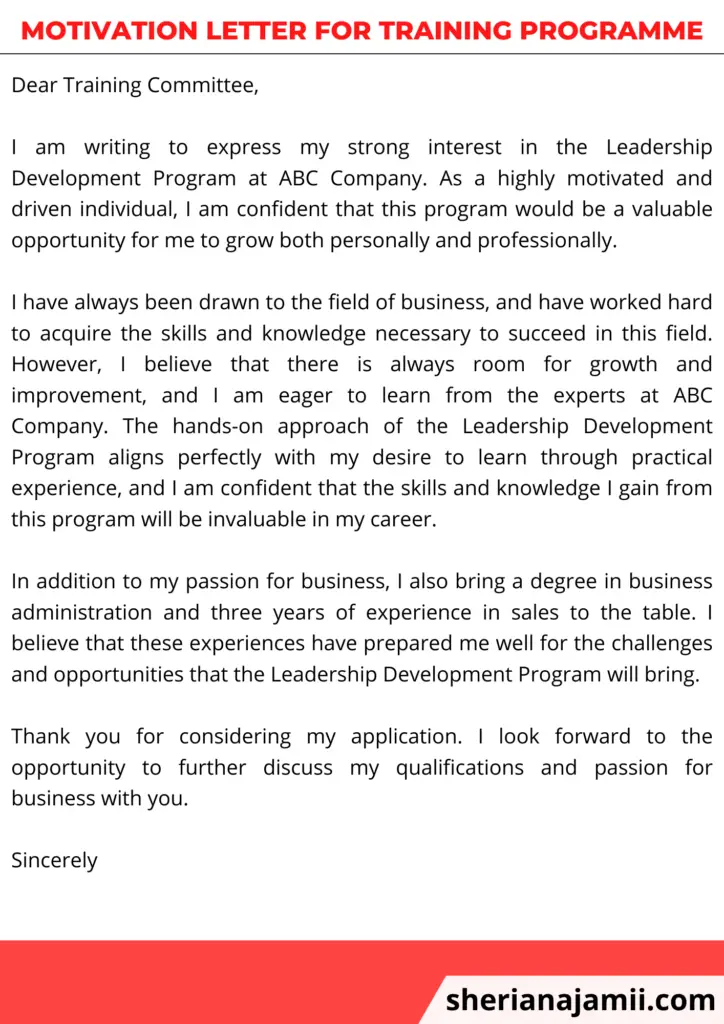 Dear Training Committee,
I am writing to express my strong interest in the Leadership Development Program at ABC Company. As a highly motivated and driven individual, I am confident that this program would be a valuable opportunity for me to grow both personally and professionally.
I have always been drawn to the field of business, and have worked hard to acquire the skills and knowledge necessary to succeed in this field. However, I believe that there is always room for growth and improvement, and I am eager to learn from the experts at ABC Company. The hands-on approach of the Leadership Development Program aligns perfectly with my desire to learn through practical experience, and I am confident that the skills and knowledge I gain from this program will be invaluable in my career.
In addition to my passion for business, I also bring a degree in business administration and three years of experience in sales to the table. I believe that these experiences have prepared me well for the challenges and opportunities that the Leadership Development Program will bring.
Thank you for considering my application. I look forward to the opportunity to further discuss my qualifications and passion for business with you.
Sincerely
[Your Name]
See also: