This post covers everything you need to know about notarizing a letter.
A notary public is a person trained and authorized by the state to certify documents.
Some letters must be notarized in order to be legally binding.
Notarizing a letter is a simple process once you have located a notary public to provide this legal service.
To help you with that, here I will take you through
notarizing a letter meaning
why is it necessary to notarize a letter
How do you know that a letter is notarized
What are the basic things that a notary public will do before natorizing a letter?
How do you get your letter notarized? (step by step)
How can you find a notary public to notarize your letter?
costs for notarizing a letter
etc.
Let's get started
Notarizing a letter
Notarizing a letter is a legal process through which a notary public validates a letter's authenticity by signing and stamping the letter with his official seal.
There are two forms through which a notary public may notarize a letter.
One is by 'certifying true copy'.
Here is when a notary public certifies that a particular letter is a true copy of the original.
If you require a notarized or certified copy of an original letter, you must take both the original and a copy of any document that needs to be notarized or certified and the notary will stamp the copy of the letter, certifying that it is a "true certified copy of the original letter," after comparing the original and the copy and making sure they are same.
Two is by a sworn statement or declaration that needs to be signed "before" or "in front of" the Notary. This will form the gist of this post.
Why is it necessary to notarize a letter
Notarization is a legal process that helps ensure a document is authentic and, ultimately, trustworthy.
Therefore when you notarize a letter It will demonstrate the legitimacy of the signature as well as the identification and free will of the signatory. ‍
Having a letter notarized ensures that the signature is genuine, that the signatory was recognized, that the signatory was of legal age to do so, and that the signatory was not unduly influenced by a third party.
The following are the types of letters that require notarization
A letter to authorize a person to act on your behalf (see sample)
A letter to grant a person rights to your property (see sample)
A letter to grant parental rights
A letter to dispute bank transactions
etc.
How do you know that a letter is notarized?
The letter is notarized when it contains the notary public declaration/acknowledgment, date of notarization, signature, name, and official seal.
Therefore when you find a letter that does not contain those elements then it is not notarized.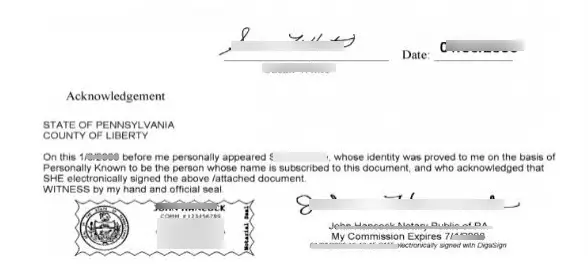 What are the basic things that a notary public will do before natorizing a letter?
The following are the basic things that a notary public will do before natorizing a letter.
Identity verification
This is a first step when notarizing a letter.
Anyone signing the letter must show identification to the notary.
This consists of a photo ID from the government and an additional document with the client's signature.
Your ID will be verified by the notary, who will then scan or make a certified copy of it for recording purposes.
Once a notary is sure of your identification, he will move on to the next part.
Consent check
The Notary will observe your signature and look for any indications of coercion or undue influence to see if you are signing voluntarily and nobody is pressuring you (directly or indirectly) to sign.
Keep in mind that the Notary has the right to decline to witness your signing if there is any question as to whether you are being "unduly influenced."
Authority check
A Notary must confirm that you are of sound mind and capable of making this decision and that you are aware of the document(s) you are signing.
The Notary has the right to refuse to validate the document(s) if you are under age, under the influence of drugs or alcohol or otherwise not able to comprehend what is going on.
How do you get your letter notarized? (step by step)
The following is how you can get your letter notarized
Prepare your letter
This is the first set towrds natozizing your letter.
When preparing you letter make sure you have completed the document, except for the signatures section (you will sign in front of the natory).
Make sure yu have fill all the blanks (names, location etc) before take your letter to a notary.
A natory public will never deal with an incomplite letter.
Also provide a space on your letter for the notary to sign and place their seal.
This is usually near the end of the letter or near where you will sign it.
The notary public's seal and signature serve as an authenticating mark.
Once this seal is applied, the information in your document is officially recognized as binding.
If this space is not included, a notary will be unable to notarize your document.
Your document will not be considered official unless it is signed and sealed.
Let the other part review it
Contact those who must sign the document and provide them with copies to review ahead of time.
They may wish to retain their own legal counsel to assist them in examining the document.
They may also wish to make modifications.
To avoid complications, give them the document before going to the notary public.
You do not need to contact other parties if you are the only one who must sign the document.
Let the lawyer review it-optional
If your letter is legal in nature or will be legally binding on you or other parties, you should have it reviewed by an attorney.
By hiring a legal professional, you can protect yourself from unintended consequences caused by the letter's language.
These experts can ensure that your document is viable.
You cannot change a notarized letter, so it must be correct before you notarize it.
A lawyer can review the letter and point out any errors or gaps that need to be filled.
You can have an attorney review the letter at any time, but any changes will necessitate re-notarization.
Getting a review first can save you time and money in the long run.
Even if you do not hire an attorney to review the letter, ensure that it meets all legal requirements.
Find a natory public
Now you letter is read to meet a naotory public.
Where do you get one?
There are numerous options available, depending on your immediate need and the type of letter- online, bank institutions, court house etc..
I will cover everything you need to know about getting a notary public in the next section, for now lets move to the next step
Arrange an appointment
Aftare getting a reliable notary public the next thing is to book an appointment so as you can meet and have your letter natorized.
Arrange a convenient time and location for notarizing the letter for all parties. To complete the notarization, all signatories must be physically present.
A notary verifies the authenticity of signatures.
The notary will be unable to perform this function if all parties are not present.
If you find a notary, you should make an appointment before going in.
This ensures that the notary has enough time to answer any questions.
However, appointments are not usually necessary.
Take your original letters plus ID
If everything is okay, now its your time for your letter to feel the touches of the natory public.
Take the unsigned original letter to the natory.
In addition to that, bring your state-issued identification.
It must be up to date.
Request that other parties do the same.
All parties signing the document must have their identities verified by a notary.
This is done to avoid fraud.
In order to notarize a document you are signing, a notary public must be able to verify your identity.
Sign and pay a fee
Essentially, the notary will simply observe all parties signing the letter before signing and stamping it herself.
Only after you have signed and the notary has verified your identity will she sign, date, and seal the letter.
The document will be legally binding once all parties have signed it.
The notarization fee may vary depending on the type of letter, the amount of liability it carries, the number of copies that must be notarized, and the amount of time required to complete the process.
Standard notary costs range from $0.25 to $20 and are billed on a per-signature or per-person basis. (source)
For a notary fee by states check here
How to find a notary public to notarize your letter
When looking for the right notary public to assist you natorzing your letter, make sure the notary you choose has the necessary experience and qualifications.
You can conduct your own research into who is best suited to work with you through "word of mouth," or you can search online for a Notary Public who has the necessary experience, positive reviews and ratings, and the necessary flexibility.
In addition to that, you can do the following to get a right notary public to notarize your letter
Research your local notary options online
There are numerous options available, depending on your immediate need and the type of document that needs to be signed.
To find options near you, search for "notary public" and your city. If you live in a less populated area, you may need to look for the nearest county or large town.
You can also search for notaries public on websites dedicated to listing them.
Notary associations may also be able to refer you to a local notary public.
Check your banking or financial institution
Asking at your bank or credit union is one of the simplest ways to find a notary. Notaries are not available at all branches.
If they don't, they might be able to point you in the direction of a nearby branch that does.
It is straightforward to locate notaries during regular office hours.
If you are a bank customer, most banks do not charge a fee for this service.
Even if you do not have a bank account or are not near your usual bank, you can pay a nominal charge to engage a notary service at a bank.
Contact your city or town hall
Inquire with anyone in the office if they know of any notaries you can utilize.
Local government institutions will occasionally allow their notaries public to help private persons.
Some institutions may charge a fee for this service.
Visit a courthouse in your area
The majority of courthouses, if not all of them, have a notary on site who can help with notarization.
A court may charge a fee for this service.
Consult a real estate or law office.
Some law firms will provide notary services for a small fee or even free of charge even if you are not one of their current clients.
By consulting experts, you can make sure that everything turns out for the best.
Even though there might be a fee, it might be worthwhile.
Many real estate offices also have a notary public on staff who can natorize your letter.
Think about using a mobile notary
A mobile service will visit you instead of making the trip to the notary's office.
Day and night, mobile notaries are frequently accessible.
Ask about extra fees if you decide to go with this option. Some mobile notaries may increase the standard fee by a travel or convenience fee.
The same websites you use to find any other notary can be used to find a mobile notary online.