Medical permission letter 2023 (guide + free sample)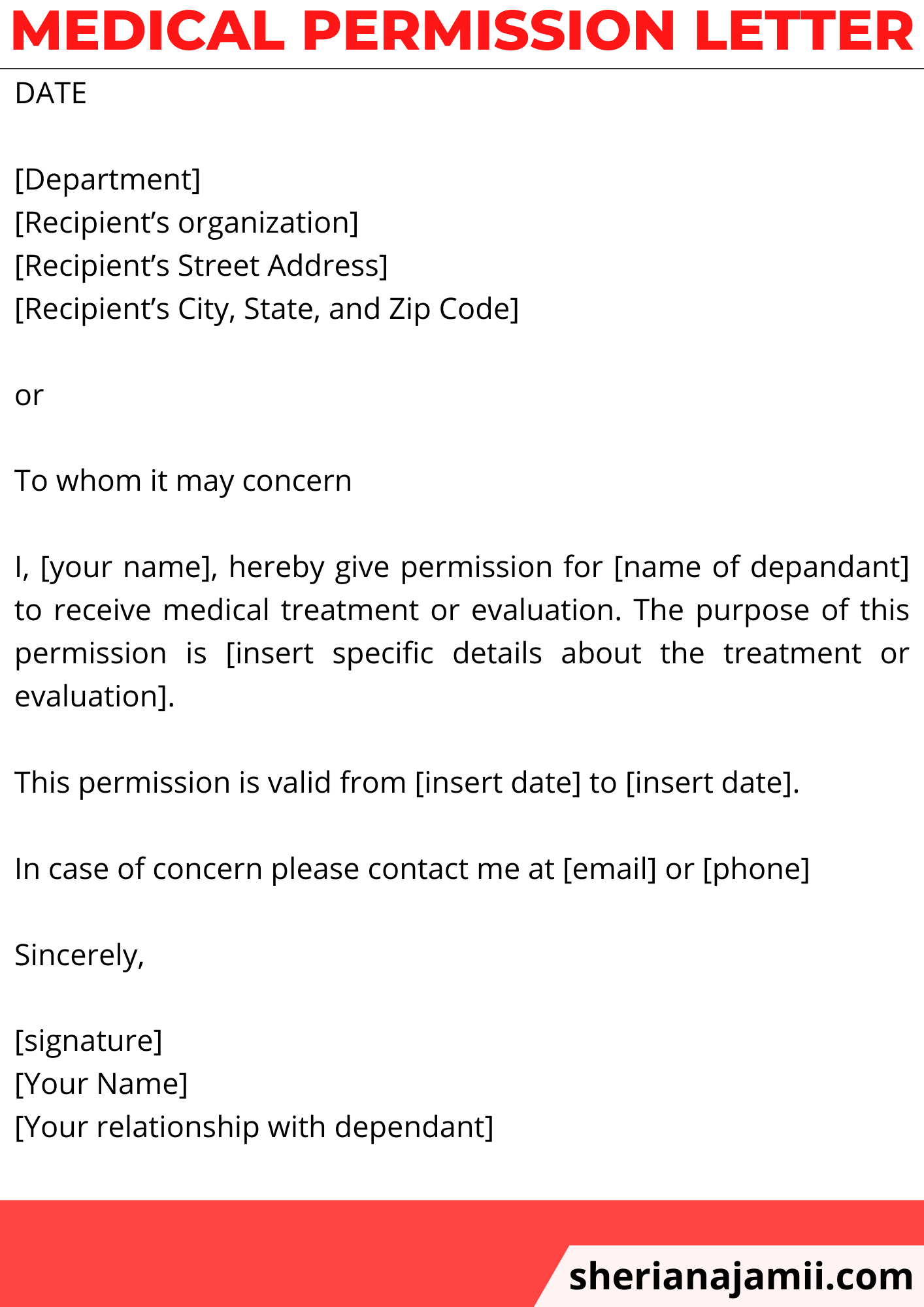 A medical permission letter is a written document that grants authorization for a specific medical treatment or procedure to be performed on a person.
This letter is usually written by parents or legal guardians who are responsible for the care of the individual in question, such as a child or a dependent adult.
The purpose of the letter is to inform medical professionals that the parents or legal guardians have given their consent for a particular medical procedure to be carried out.
The letter typically includes details about the treatment or procedure that has been recommended, as well as any associated risks or benefits.
Medical permission letters are commonly required for procedures such as surgery, anesthesia, or diagnostic tests.
Transform Your Communication, Elevate Your Career!
Ready to take your professional communication skills to new heights? Dive into the world of persuasive business correspondence with my latest book, "From Pen to Profit: The Ultimate Guide to Crafting Persuasive Business Correspondence."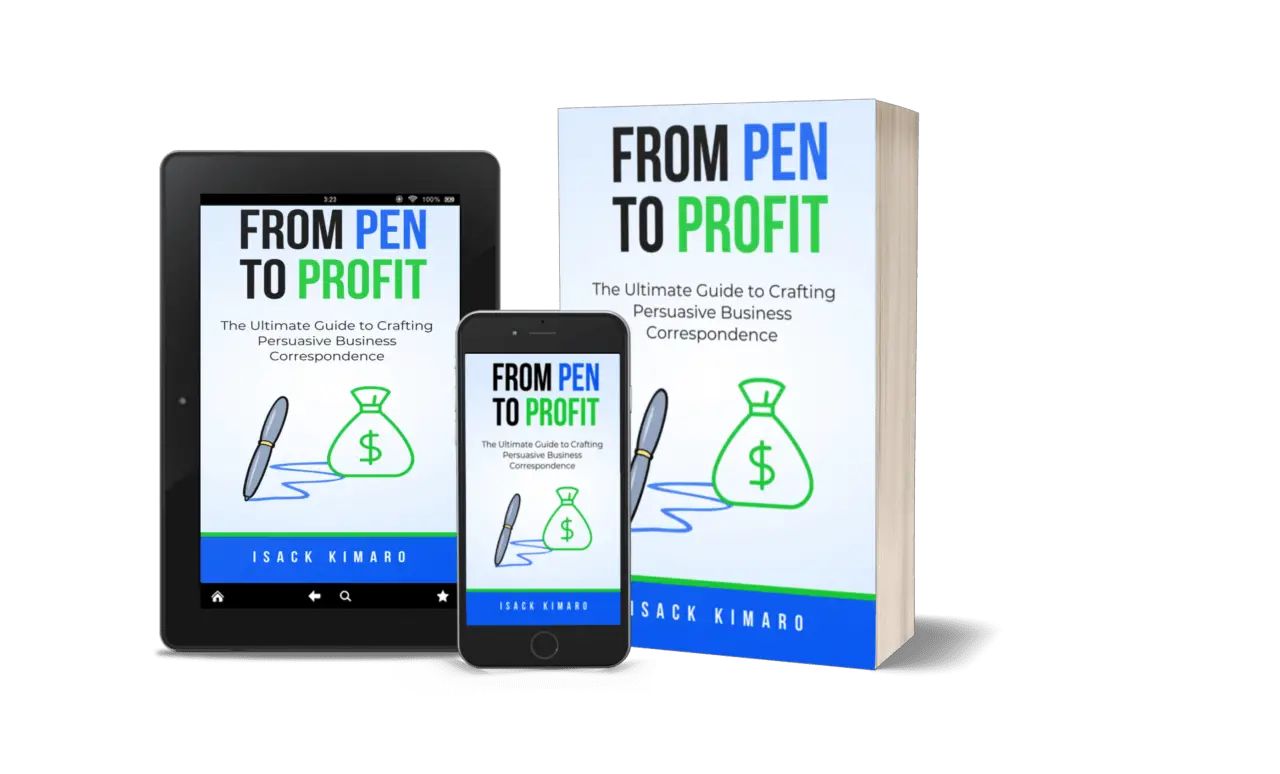 In some cases, the letter may be required by the healthcare provider before they can proceed with the treatment or procedure.
This ensures that the patient has given informed consent and that the healthcare provider is aware of any relevant medical history or other factors that may affect the procedure.
To help you get the most out of it in the preceding sections of this post, I will guide you through;
Why medical permission letter is necessary
When a medical permission letter is necessary
How to write an effective medical permission letter
medical permission letter template
medical permission letter sample
etc.
Why medical permission letter is necessary
Knowledge and consent.
A medical permission letter is necessary to ensure that medical treatment or procedures are only performed on your dependant with your knowledge and consent.
As we all know that medical treatments and procedures can have both positive and negative effects on a person's health and well-being.
But a well-written medical permission letter can help doctors ensure that the decision is voluntary and that the parent or guardian is fully aware of the risks and benefits associated with a certain medical treatment.
As stipulated under the American Medical Association Code of Medical Ethics (AMA-COE) That patients or their surrogates have the right to receive information and ask questions about recommended treatments so that they can make well-considered decisions. (Informed Consent)
And the process of Informed consent occurs when communication between a patient or his surrogates and physician results in authorization or agreement to undergo a specific medical intervention.
Evidence
Apart from consent issues, a medical permission letter safeguards the medical provider by evidencing that the required consent was obtained before the dependent was subjected to the treatment or procedure.
This can be crucial in situations where a parent may later assert that he did not give his consent or where there is disagreement over the course of the treatment or procedure.
Compliance
In the medical field, obtaining informed consent from a patient is a critical aspect of the treatment process.
And the medical permission letter is there to make sure that medical treatment is provided in a way that is safe, moral, and legal.
If a medical professional were to perform a treatment or procedure without obtaining the required informed consent from the patient, it would be considered a violation of the patient's rights
In such cases, the medical professional runs the risk of facing legal repercussions, including lawsuits, disciplinary actions, and even loss of their medical license.
Key Takeaway: A medical permission letter has important legal implications as it represents the written consent of the patient or their legal guardian for a specific medical treatment or procedure.
When a medical permission letter is necessary
There are two common circumstances where a medical permission letter may become necessary;
When a person is underage
When a person is unable to give consent such as when he is unconscious or otherwise incapacitated.
In all circumstances, a medical permission letter must be provided BEFORE a medical Practioner performs a specific medical treatment or procedure on a person.
For example, you take your child to the doctor for a routine check-up.
During the appointment, the doctor recommends that the child receive a vaccination to protect against a common illness.
Because the child is under 18, before anything you must provide a signed medical permission letter authorizing the vaccination.
The letter must include your name, your child's name, and a description of the vaccination that you have agreed to.
It may also include any relevant medical information, such as the child's medical history and any allergies they may have.
For a detailed guide on Permison to the treatment of minors read this McNary, Ann. Article titled "Consent to Treatment of Minors." Innovations in Clinical Neuroscience.
In his artlecle McNary shars provides guidance on obtaining consent and release of information when treating minor patients.
TL:DT
The article explains that obtaining consent from a minor's parent or legal guardian is necessary before treating the minor patient
In the event that the minor's parents are separated or divorced, reasonable steps should be taken to determine which parent has the legal authority to consent to treatment.
If a guardian ad litem or legal guardian has been appointed to represent the interests of the minor patient, the physician should obtain a copy of the court order and examine it carefully to determine any limits on the ability of the legal guardian to consent to treatment of the minor patient
the article highlights specific situations where minors have the right to consent to their own medical treatment, such as in court-ordered and situational emancipation.
Here is another example;
You are unconsciously admitted to the hospital for emergency surgery.
In that circumstance, your spouse may provide a medical permission letter authorizing the surgery because you are unconscious and unable to give consent.
Here is an impoortant thing to note;
When a patient is unable to participate in decision making and their surrogate is unavailable during an emergency situation requiring urgent decisions, physicians may begin treatment without prior informed consent.
However, the physician must notify the patient/surrogate as soon as possible and obtain consent for ongoing treatment to comply with AMA-COE
Medical permission letter for the child  in someone's care
Whenever your children are in the care of someone else—whether grandparents, babysitters, daycare facilities, summer camps, or schools—you should give that person or entity a letter granting them permission to administer medical care to your child.
Make sure anyone taking care of your minor child is aware of any allergies or medical conditions your child may have.
Any regular medications your child takes should be disclosed to the caregiver, along with information about when and how to administer the medication to your child.
When you have handed over your child with a valid authorization letter, you don't need to write a separate permission letter.
In the same authorization letter, you can simply include your medical permission.
How to write a medical permission letter
A medical permission letter is written in a business letter format. Begin your letter with your address and contact information, followed by a date and the medical provider's address, and state that you are writing to give permission to allow a certain medical treatment or procedure to be performed on a certain individual.
Finish your letter with SINCERELY followed by your name and signature.
REMEMBER the aim of your permission letter is to consent to another person's medical treatment or individual.
The following is how you can write an effective medical permission letter
Provide your name, address, and contact information
Include the date of the letter
Include the recipient's name, address, and contact information if unknown use To whom it may concern
Indicate your legal relationship with a person you are giving permission on his/her behalf.
Specific medical procedure or treatment, or for a general medical evaluation. Be as specific as possible so that there is no confusion about what is being authorized.
If applicable, include any conditions or restrictions on the permission. For example, you may want to specify that the permission only applies to a specific medical facility or doctor.
Include your contact information in case there are any questions or concerns. This could include their phone number, email address, or mailing address
Your signature
Maintain a professional tone
Be concise and to the point
Be honest
Medical permission letter template
Your Name
Address
City, State, Zip Code
phone
email
DATE
[Department]
[Recipient's organization]
[Recipient's Street Address]
[Recipient's City, State, and Zip Code]
or
To whom it may concern
I, [your name], hereby give permission for [name of depandant] to receive medical treatment or evaluation. The purpose of this permission is [insert specific details about the treatment or evaluation].
This permission is valid from [insert date] to [insert date].
In case of concern please contact me at [email] or [phone]
Sincerely,
[signature]
[Your Name]
[Your relationship to dependant]
Medical permission letter pdf
Medical permission letter example
The following is a sample medical permission letter for a child from parents.
Date: December 13, 20..
To whom it may concern,
I, Kennedy Joe, hereby give permission for my child, Kenny Kennedy, to receive medical treatment or evaluation. The purpose of this permission is to authorize Kenny to receive a general medical evaluation at the ABC Clinic on December 14, 20…
This permission is valid on December 13, 20..
In case of concern please contact me at joe@email.com or 198-897-9877
Sincerely,
Kennedy Joe
Father of Kenny Kennedy
Read also: Sample letter from Doctor about Medical condition