This post covers everything you need to know about how to start a law blog.
I guess you are a law student or lawyer or you have a law firm and your big question is how to start a law blog to showcase your skills or services. how to become a successful law blogger? where do you start?
For your information, a law blog is the best way to make passive income as a law student or lawyer
I know starting a law blog from scratch is no easy task.
But don't worry, that's this easy-to-follow guide is divided into eight comprehensive steps that are easy to digest and apply.
From finding your blog name to finally making money from your blog.
So, let's get right down to it and teach you how to start a law blog that drives clicks and attracts audiences.
why do you need a law blog?
The why is better than the how.
The following is the importance of having your law blog.
Showcase your legal skills and expertise
Build your brand
Attract potential clients
Make money (this is the big one)
How to start a law blog
The following is the step-by-step guide about starting a legal blog and make money from it
Step 1: Choose your law blog niche
Law blogging is one of the best blog niches to get into because there are so many different topics you could write about.
Your niche is where your blog will focus on.
But the fact is There are currently over 600 million blogs on the internet, and many of them are law blogs.
If your site is too broad, it might appeal to a slightly wider audience, but it will be challenging to break through and outperform the vast amount of competition.
By narrowing down on a specific law/legal niche, instead of competing with the whole of the internet, you'll just compete with a select few blogs.
You'll find your target audience much more efficiently, and you'll get your followers more involved.
How do you find your law blog niche?
The best way to select the niche for your law blog is
Brainstorm
Look at the legal areas that you are interested to blog about
Blog about your area of expertise
 Look at the legal skills that you can teach others
look at the legal services that you provide
look at who you want to be your visitors. (law students, your potential clients, Judges, layperson, etc)
etc.
Examples of law blog niche
The following are examples of blog niches to give you ideas on how to select your law blog niche
Law student's blog- provide notes and guides
Law school blog-provide law school guides 
Legal documents blog- for sharing legal documents
Areas of the law blogs, for example, criminal law blog, personal injury blog, etc.
General law blog- share everything related to law.
Step 2: Choose your blog name
Congratulations! now you have your law blog niche.
It's time to baptize your law blog with an amazing name.
NB: Your blog name will be your domain name choose it wisely.
Characteristics of an ideal blog name
Short and sweet
Unique and memorable
Easy to pronounce
Relevant to your niche
Register your blog name as a domain name
It is a must to register your domain name to get started with your law blog journey. 
Once you have some potential names in mind for your blog, you'll need to check their availability and register the one that is available.
Since .com is the standard domain suffix, keep trying potential names until you find one that is available in .com.
Don't resort to hyphens or other punctuation marks to make it work (they're too hard to remember)
There are many companies (Domain registrars) where you can register your domain name. 
But for you, I recommend registering your domain name with Namecheap because;
It is cheap,(less than 10$/y) you don't need to spend big on your first law blog so Namecheap is ideal for cutting start-up cost
It is user friendly
easy to set up
reliable
24 hours customer support and +live chat 
The best part? you get a free domain name when you buy their host. (learn about blog hosting in the next step)
Ready to get started with NameCheap? Click the button below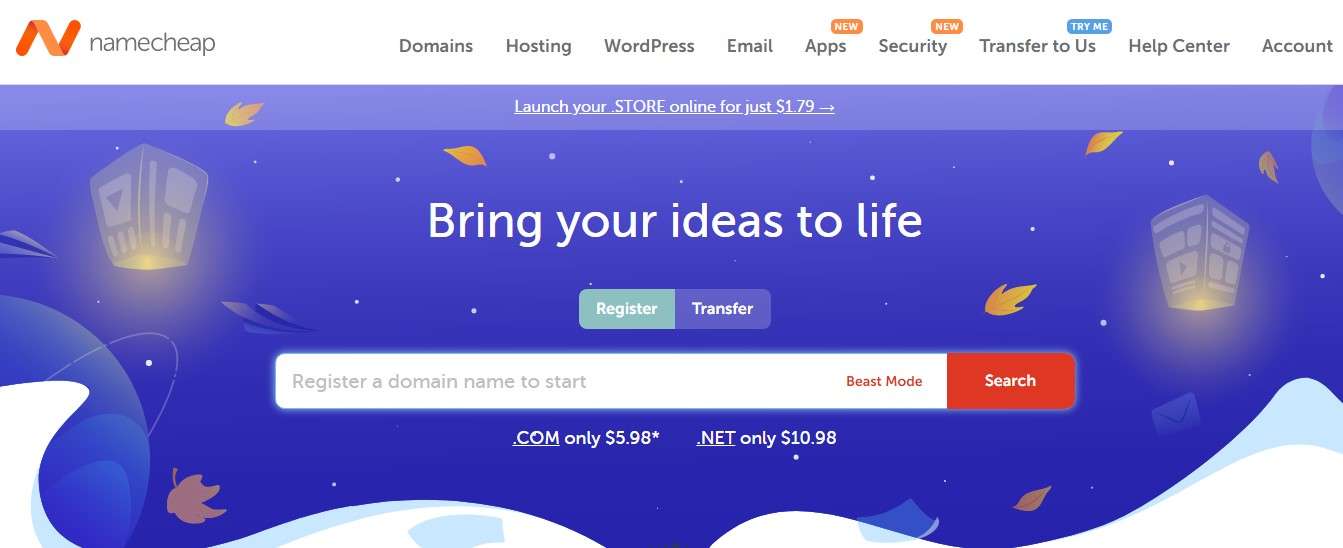 Step 3: Find a reliable Hosting
Think of your domain name as your blog's home address. When someone's searching for you, they'll find you there.
If your domain name is your address, your web hosting provider is your law blog's house. It's the place where your law blog 'lives' online.
Web hosting providers are companies that can make your cooking blog accessible online.
They provide servers and data centers and keep your blog connected to the internet.
Namecheap is the #1 web hosting company Rated 4.7 out of 5 by 2M+ customers.
You also need to use NameCheap because it gives you
Free domain name
Free email accounts for your domain example admin@yournamainname.com
Unmetered bandwidth
Free website builder
Free automatic SSL installation  
Free Supersonic CDN  
30-day money-back guarantee
Turn back time and protect your website data with AutoBackup.
AutoBackup 
Quickly build your website for free with Website Builder
Tada! the reliable host found! 
You are now ready to move to the next step where you will see how to launch your law blog to the world.
Step 4: Launch your law blog on WordPress
Now it's time to learn all of the technical details about how to start your own law blog.
In this section, we'll go over the process of launching your law blog on WordPress, step by step.
Go to the NameCheap homepage!
First, you need to go to the namecheap.com website to get started.
On the homepage, go to hosting and select shared hosting. (You can click here to go direct to the shared hosting page)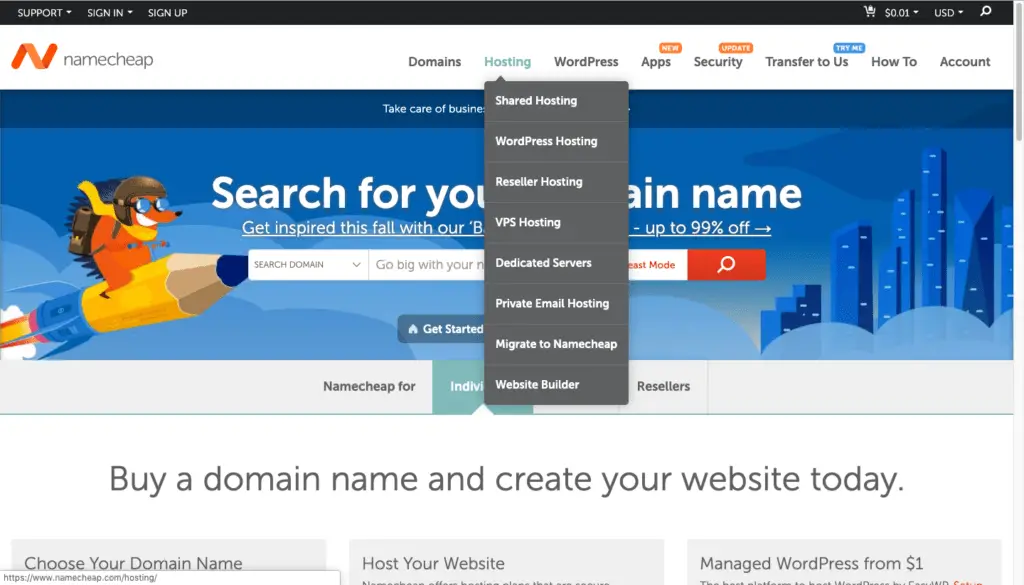 Choose your hosting plan!
As soon as you click on the " shared hosting", you'll be taken to the page shown below.
Here, you'll choose your hosting plan.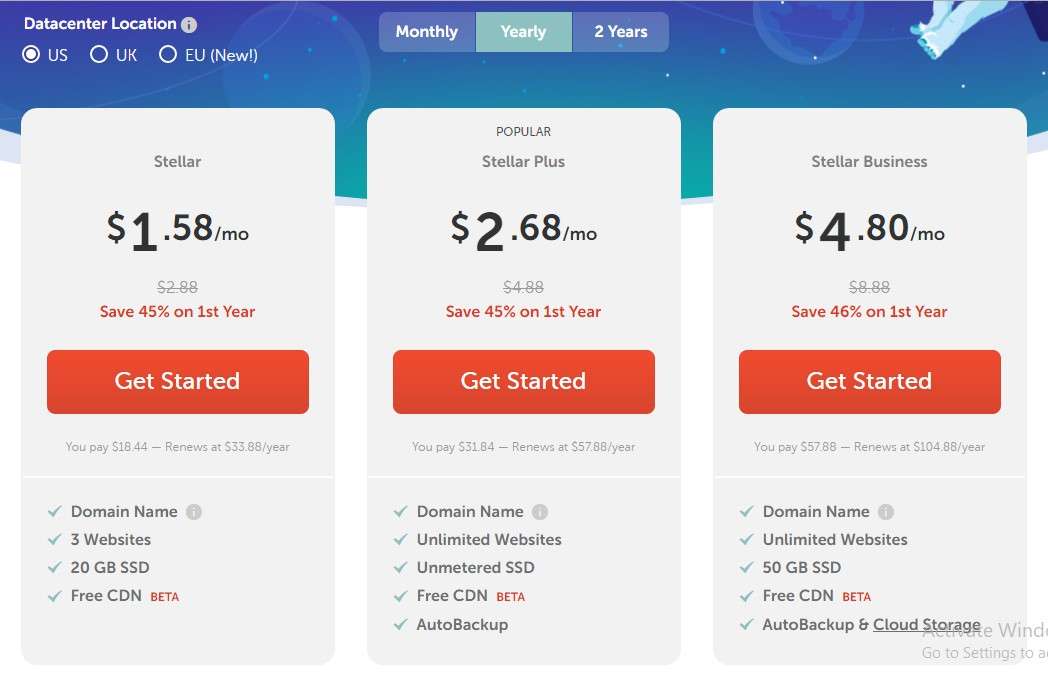 All the plans' features will be listed, so make sure to read through them to see which plan suits your needs best.
To get started even the steller plus is enough (this is the plan which I use for this site).
Click get started on the plan that meets your demands
Set up your domain name with your hosting 
Do you remember the domain name stuffs mentioned in step 2? here you need to connect it with your hosting plan to make it accessible on the internet.
If you dint create your domain yet don't worry because at this stage it is possible to  create a new domain name or use your existing domain name (the domain that you have created on NameCheap)
To use an existing domain just select the existing domain to proceed.
To create a new domain just select the new domain and scroll down to search for domains. Select the domain you want and select connect to hosting, then click add to cart.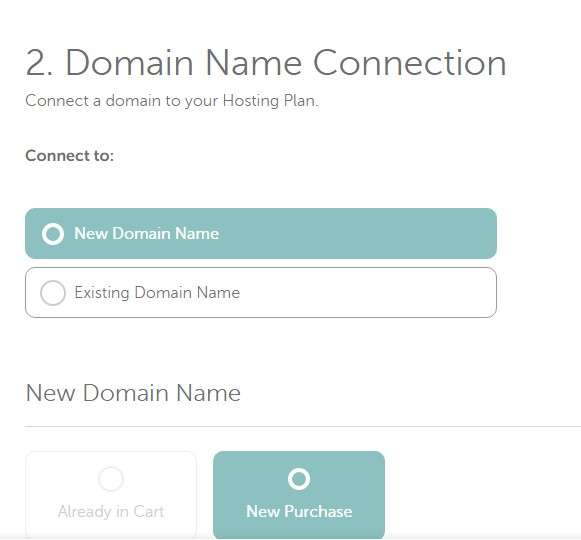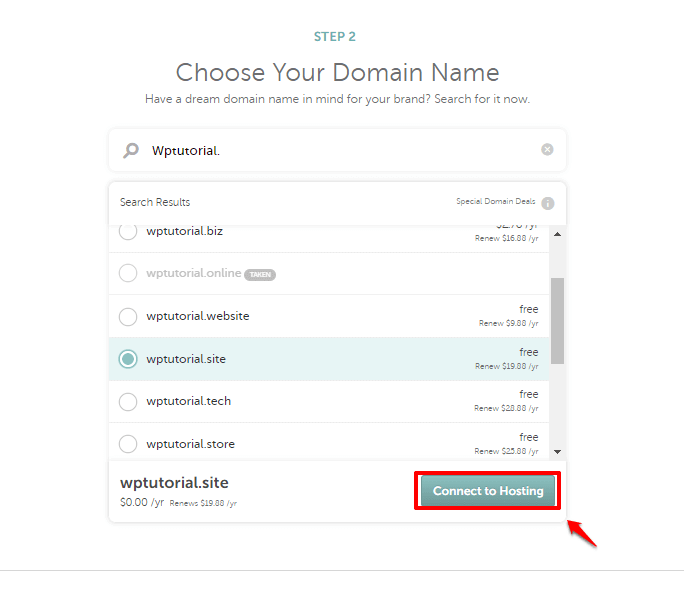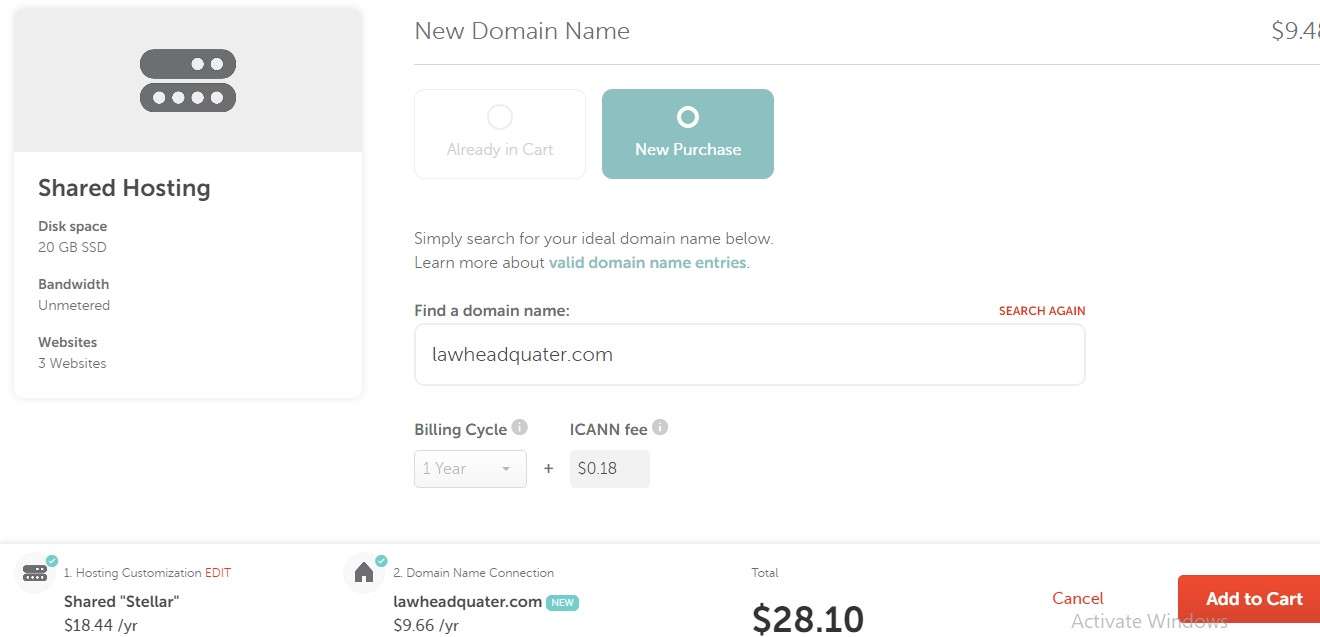 While on the cart check the price and the products that you are about to purchase then select confirm an order.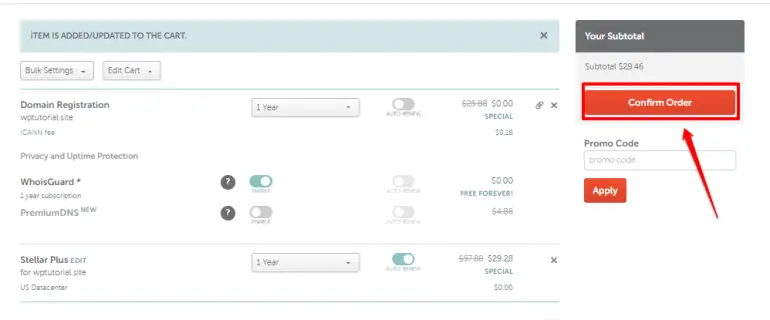 You will need to sign in (if you already have a Namecheap account) or sign up to create one, to complete the purchase.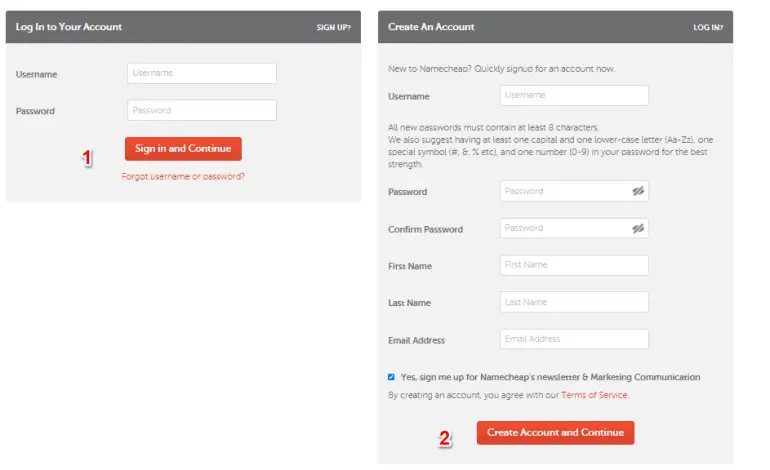 Once your purchase is complete you will immediately start to receive support from the NameCheap hosting team on how you can set up your law blog.
In case of anything, you can chat with them live.
So don't worry, with NameCheap everything is under control
Launch your WordPress law blog with Namecheap
Installing WordPress on your new NameCheap hosting is easy. For those of you who aren't good with technology, I will show you how to install it with the shared hosting option.
Go to NameCheap Dashboard
Click on the server icon to go cPanel on your dashboard
Find the Softaculous apps installer
Click WordPress
Fill up the Website Details
Click install now
Tada! your law blog is now live its time to do some customization
Step 5: Select your law blog theme
WordPress.org has a wonderful selection of over 3,000 themes at your disposal, so you can take your pick.
To narrow down your search and find a theme that works well for your Law blog, make sure to:
Pay attention to the features;

Responsive design
SEO optimized 
Plugins compatibility
Custumazation flexible
Good layouts

Check its ratings.
Preview the theme; and
Activate
Keep in mind that the themes will customize differently depending on their built-in features, your blog's content, and its layout.
To find the themes, you'll need to go to the WordPress dashboard, go to the "Appearance" tab, and click on "Themes."
There you'll find countless free themes as well as many others with an affordable price tag.
What are good WordPress themes for a law blog?
It all depends on your preferences.
There isn't a single theme that outshines all the rest, but still, some WordPress themes are better for specific purposes than others. 
See this list of the best free WordPress themes for lawyers from Colorlib to see if you can get one.
Add plugins to your blog!
Without the right plugins, your law blog would be just a simple static page. You need plugins that can help you to boost engagement on your posts, improve SEO, enhance your site's speed, and add contact forms.
See these must-have plugins for any WordPress site from Neil Patel.
Congratulations!!! you have done all the groundwork hassles
Now you're ready to start publishing posts on your new law blog.
Step 6: Add content to your site
In the blogging world, 'content is king,' you will probably hear this again and again. 
Don't know how to create content for your blog? 
You must learn it by yourself or hire writers. (the best way is to learn it by yourself, hiring is expensive)
The good thing about learning how to write killer blog posts/articles is that you will have consistency in publishing your articles and further when you decided to hire, you will be able to see if the content delivered meets the quality of your blog.
The shortcut? use writing tools to write killer articles.
and when it comes to writing tools, I recommend you choose Grammarly
Read this post from Backlinko to learn how to write a blog post.
Prefer to hire writers? Hire below

Step 7: Promote your Law Blog
Once you've created your blog and started publishing, it's time to build your audience.
People won't just randomly stumble across your law website, so you'll need to work on promoting your blog.
There are several ways to do that.
Social media marketing
Social media is a great way to promote your law blog.
Create social media accounts for your blog and keep them active.
You need to update your accounts consistently, engage with your followers in the comment section and messages, and be responsive.
If you're inactive, you'll seem disinterested and unprofessional.
Facebook, Instagram, Twitter, Reddit, Quora, and LinkedIn are typically good choices for law bloggers.
Collaborations with other law bloggers and influencers
If you want to gain exposure in your niche, the best thing to do would be to collaborate with others in your industry.
Established food bloggers and influencers can help you to expand your reach and attract a wider audience.
Reach out to different influencers and see which collaboration would make sense for your blog and brand persona.
Law Blog SEO
Focusing on Search Engine Optimization (SEO) is the best way to boost your organic marketing and make it easier for your readers to find you.
You could do many things to enhance your SEO efforts and improve your blog's ranking on search engines.
Take a look at some of the most important SEO tactics for Law bloggers.
Keywords Research
Keywords are the words that your target audience would use to search for content in your niche.
If your content contains the keyword that your potential readers have googled, your blog will be more likely to show higher up on top of the search results.
The secret to success with Keyword research? focus on long-tail keywords.
This is how long-tail keywords work. 
Instead of targeting a keyword like 'law' which is very competitive, you may target a long-tail keyword variation like 'how to study law easily, 'why the law is important, etc.
The long-tail keywords appear to be more specific and less competitive. So it is easy to win rankings with them. 
I have found this resource from Moz more useful for you to learn more about keyword research.
Curious about SEO? learn everything you need to know about SEO here
Step 8: Monetize your law blog 
Finally, it's time to reap the benefits of your law blog
Here is where things get sweet.
How much can you earn? it depends!
How to monetize A law blog?
The following are the best ways to monetize your law blog and make money out of it.
Ads
Ads are the easiest way to get money through your law blog. 
Here what you need to do is to join any Ads network of your choice and add their Ads code to your site and boom! Your site is now monetized by Ads.
The best Ads network to monetize your law blog includes Propeller Ads, Google Adsense, and Ezoic 
The following are the ABCs of those Ads networks, to help you join the right one.
Propeller Ads for a law blog
The simplest way to start monetizing your law blog with Ads is through Propeller Ads.
Propeller is the easiest Ad network to join. 
It is a CPM Ad network that can make you earn money from your established law blog.
 The following are the requirements to join Propperla ads and why you must monetize your law blog with Propeller Ads
A live established blog
A blog must have contents even a few articles are enough
There are no minimum traffic requirements (they accept you even if your blog has zero (0) visitors. Yes, zero.
They accept/approve your site to show ads immediately after signing up
Easy to set up 
Different Ads formats
You earn Per 1,000 views
The minimum payment amount is only 20$  
That's it
Of course, I have found several issues after joining and using Propeller Ads for almost a year.
Their Ads are annoying. (pop-ups, and hidden links where the user is taken to another site accidentally)
Their best ads format are available for the site with high Traffic
 To earn more you need traffic from Top tier countries like the USA
The best part about Propperlar Ads? you can use them together with other Ads networks on your site like Adsense and Ezoic without any issues.
In another language, you can put both Propeller ads and Adsense ads on your site simultaneously.
Google Adsense for a law blog
Adsense is another good way to monetize your law blog.
After having issues with Proplear Ads I decided to move to Adsense ads which I find to be better than Propeller Ads.
Why you must monetize your law blog with Google Adsense
Easy to setup
no minimum amount of traffic is required, they accept you even if your blog has zero (0) visitors
Quality Ads
Different earning Modes like CPC, CPM, and Search Ads.
Different Ads format
A single code is enough to monetize your whole site
The following are some requirements to join Google Adsense
You have an active Gmail account that isn't already linked to an AdSense account.
You have a live website that meets all of Google's terms of service requirements.
Your website is at least three (3) months old.
The content on your website is up to date, relevant and original — you should have at least 20 articles published that provide value to your visitors and it should also have a contact page and a privacy page.
You have ample website traffic (there's no minimum amount of traffic required here, they accept you even if your blog has zero (0) visitors).
The following are the challenges of Adsense
It is hard to be approved (I applied more than 10 times until this site got approved)
They take time to review and approve your site.
High minimum payout amount (100$)
There are a lot of processes until you get your first payment including verifying your address
Either way, I have found Adsense better than Propeller Ads.
Ezoic for Law Blog
Ezoic is the best way to earn a lot of money through ads on your blog compared to Propeller Ads and Adsense.
After using Adsense for two years I decided to move to ezoic and my Ad earnings increased astonishingly.
Why you must monetize your law blog with Ezoic Ads
Ezoic is fully automated
free to use
doesn't require any additional time commitment or technical input from you.
Features to speed up your site
The minimum payout amount is 20$
They Pay on time
Perfect customer services
It is more than an Ad network
The following are some requirements to join Ezoic
Site Adhere to Google's Publishers Policies that require attributes such as original content, no keyword stuffing, and no invalid clicks or impressions (if your site has Adsense already [not must], you should not worry about this)
 A minimum of 10,000 site visits per month- this is no longer a problem because ezoic now accepts sites a regardless number of visitors through their access now program.
The best part? you can join ezoic without waiting to meet any of the requirements and keep improving your site until approved. 
Does your site have less than 10,000 visits per month? 
Join Ezoic Via Access Now Program
Affiliate marketing
Affiliate marketing is also the ideal solution for making your law blog profitable.
This is an Advanced level for monetizing your law blog.
Affiliate marketing is different from Ads
While in Ads you earn money through ad clicks and impressions, in affiliate marketing you will earn money through the commission you get from the companies that you promote their goods or service on your site.
Its earning potential is higher than Ads if it will be applied correctly.
The best way to earn with affiliate marketing is to create content around your affiliate programs and add your affiliate links.
The contents might be product reviews, how-to guides, comparisons, best lists, etc.
The easiest way to find profitable legal affiliate programs to join and promote is by joining affiliate networks.
The following is the affiliate network that you can join
Commission Junction
Click bank
Share A Sale
Rakuten
Alternatively, you can search and join affiliate programs directly on the company website.
The following are the affiliate programs related to the legal realm  that you can join and make money
Sell your legal Products or services
This is a professional and most profitable way of monetizing your law blog, yet it takes time and is hard to implement.
Selling your legal products/services can be a very lucrative strategy, but you have to be smart about it. Wait until you've gathered enough blog readers who'd be interested in buying your products or service.
The products/services that you may sell on your law blog include books (ebooks and physical books), courses, templates, legal documents, consultancy, etc.
Make sure that you promote your products and services on your blog and on your social media channels to sell more.
Other ways you can monetize your law blog and earn money includes
Subscription- let your visitors pay you for the premium content on your site.
Sponsored post – gets paid for writing about certain brands, law firms, and legal services.
Create a YouTube channel promoting your blog
Final remarks
law/legal blogging is an incredible, exciting, and profitable way for anyone with a passion for it.
It requires effort, commitment, and dedication, but it can easily become well worth it.
So, if you were wondering how to become a law blogger, what you need to do is:
Choose your niche;
Come up with a blog and domain name;
Choose your web hosting provider and launch your blog;
Create useful content, promote your blog and monetize your blog; and
Enjoy!
Your law blog can become so much more than a simple passive income opportunity with a little bit of effort on your part.
So, give it a try, and see where your law blog takes you.