Cover letter for law internship 2023 (guide & free sample)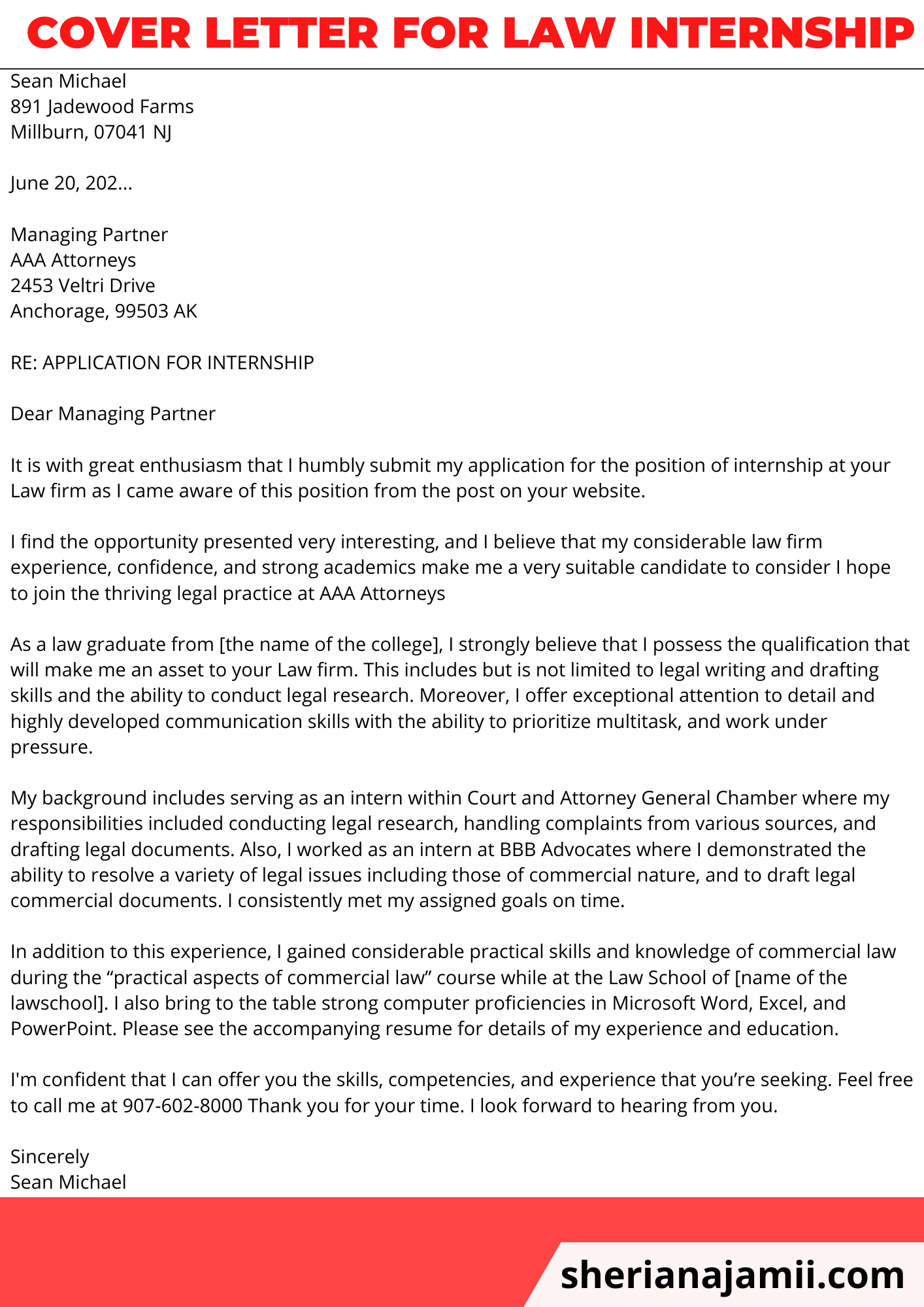 This is an application/ cover letter for law internship position.
This cover letter for law internship application is useful for law students who intend to work as legal interns at any law firm.
It also works better for an applicant with less or no working experience.
I advise you to edit it to meet the position requirements.
let's get started!
Transform Your Communication, Elevate Your Career!
Ready to take your professional communication skills to new heights? Dive into the world of persuasive business correspondence with my latest book, "From Pen to Profit: The Ultimate Guide to Crafting Persuasive Business Correspondence."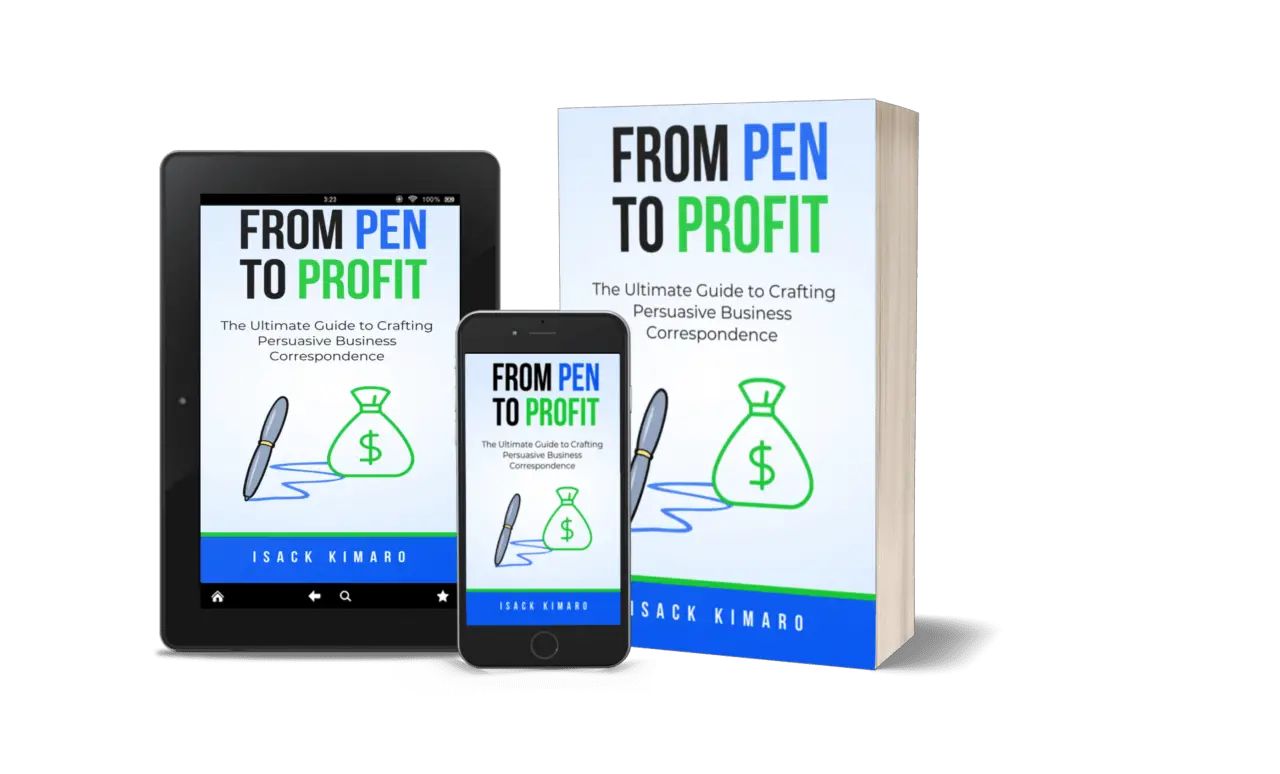 Oh! before we get started
How do you write a cover letter for law internship?
A cover letter for law internship is written in business letter format. Begin your letter with your address and contact information, followed by a date and the address of the law firm, and state that you are writing to ask for an internship position. Finish with "Sincerely," followed by your name and signature.
REMEMBER! The purpose of your cover letter for a law internship is to convince the law firm that you are a good fit for the position.
You should also note that 70% of interns are hired at the same company they interned with following their internship. (source)
Therefore you should take this opportunity of writing your cover letter as an important step in your job search journey.
In order to write an effective cover letter for a law internship, do the following;
Provide your name, address, contact information, and job title.
Include the date of the letter
Include the firm's address
Clearly state the position you are applying
Explain how you became aware of the internship
mention the prerequisites stated in the internship description
Mention your most noteworthy or relevant skills and qualifications (legal and non-legal)
Explain how you are a good fit for the position
Provide the details of how you will be reachable
Attach CV, certificates, records, or other documentation for easy reference.
Be straightforward
Maintain a professional tone
Be honest
Format of cover letter for law internship
Your cover letter for the law internship should take the following format.
Your Address and contact information
Date
Firm's address
Subject line
Salutation
[opening paragraph]- State that you are writing to apply for an internship position plus how you became aware of it.
[body paragraphs]- Explain how you are a good fit for the post [add education background, relevant skills, qualifications, working experience, etc.]
[closing paragraphs] – contact information
Sincerely
name and signature
Read also:
Sample cover letter for law internship
Sean Michael
891 Jadewood Farms
Millburn, NJ 07041
seanM@email.com
June 20, 202…
Managing Partner
AAA Attorneys
2453 Veltri Drive
Anchorage, AK 99503
RE: APPLICATION FOR INTERNSHIP
Dear Managing Partner
It is with great enthusiasm that I humbly submit my application for the position of internship at your Law firm as I came aware of this position from the post on your website.
I find the opportunity presented very interesting, and I believe that my considerable law firm experience, confidence, and strong academics make me a very suitable candidate to consider I hope to join the thriving legal practice at AAA Attorneys
As a law graduate from [the name of the college], I strongly believe that I possess the qualification that will make me an asset to your Law firm. This includes but is not limited to legal writing and drafting skills and the ability to conduct legal research. Moreover, I offer exceptional attention to detail and highly developed communication skills with the ability to prioritize multitask, and work under pressure.
My background includes serving as an intern within Court and Attorney General Chamber where my responsibilities included conducting legal research, handling complaints from various sources, and drafting legal documents. Also, I worked as an intern at BBB Advocates where I demonstrated the ability to resolve a variety of legal issues including those of commercial nature and to draft legal commercial documents. I consistently met my assigned goals on time.
In addition to this experience, I gained considerable practical skills and knowledge of commercial law during the "practical aspects of commercial law" course while at the Law School of [name of the lawschool]. I also bring to the table strong computer proficiencies in Microsoft Word, Excel, and PowerPoint. Please see the accompanying resume for details of my experience and education.
I'm confident that I can offer you the skills, competencies, and experience that you're seeking. Feel free to call me at 907-602-8000 Thank you for your time. I look forward to hearing from you.
Sincerely
Sean Michael