How to become a lawyer: From Undergrad to the Bar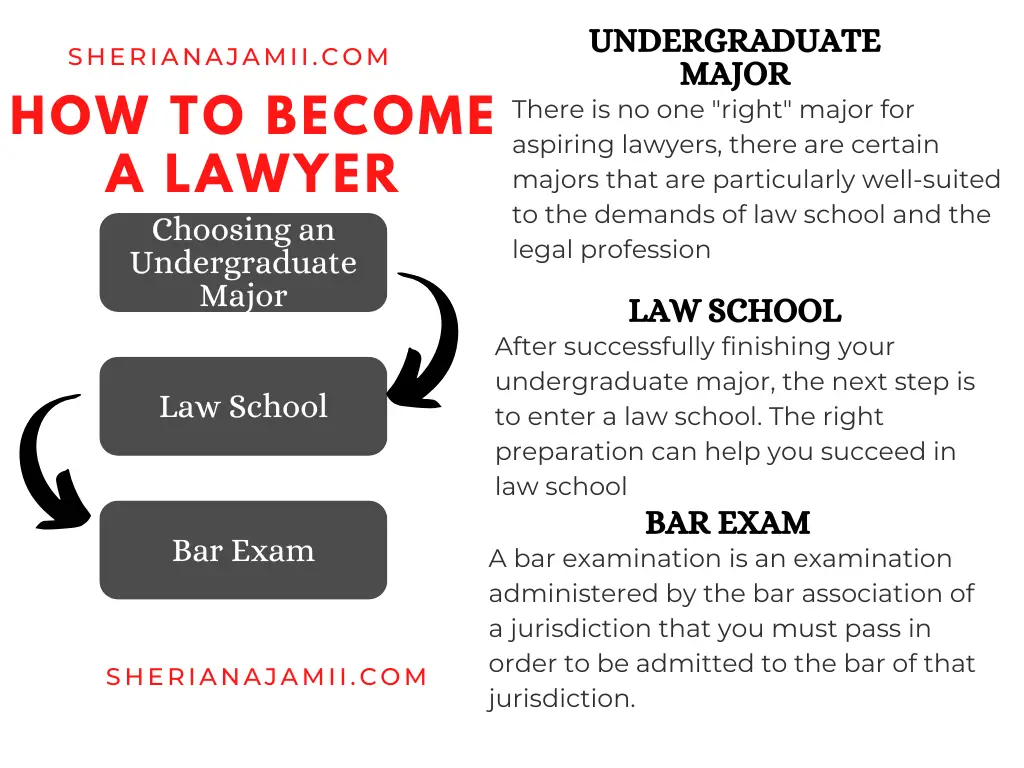 Here is how to become a lawyer;
Get an undergraduate major that aligns with your interests and career goals.
Get into a law school where you will receive a comprehensive and rigorous legal education
Take the bar exam to demonstrate your proficiency and readiness to practice law.
Before breaking down the process;
Are you truly want to become a lawyer?
If you commit to reading the processes I will share in this guide from start to finish without changing your mind, I can confidently assure you that your desires will be fulfilled.
Transform Your Communication, Elevate Your Career!
Ready to take your professional communication skills to new heights? Dive into the world of persuasive business correspondence with my latest book, "From Pen to Profit: The Ultimate Guide to Crafting Persuasive Business Correspondence."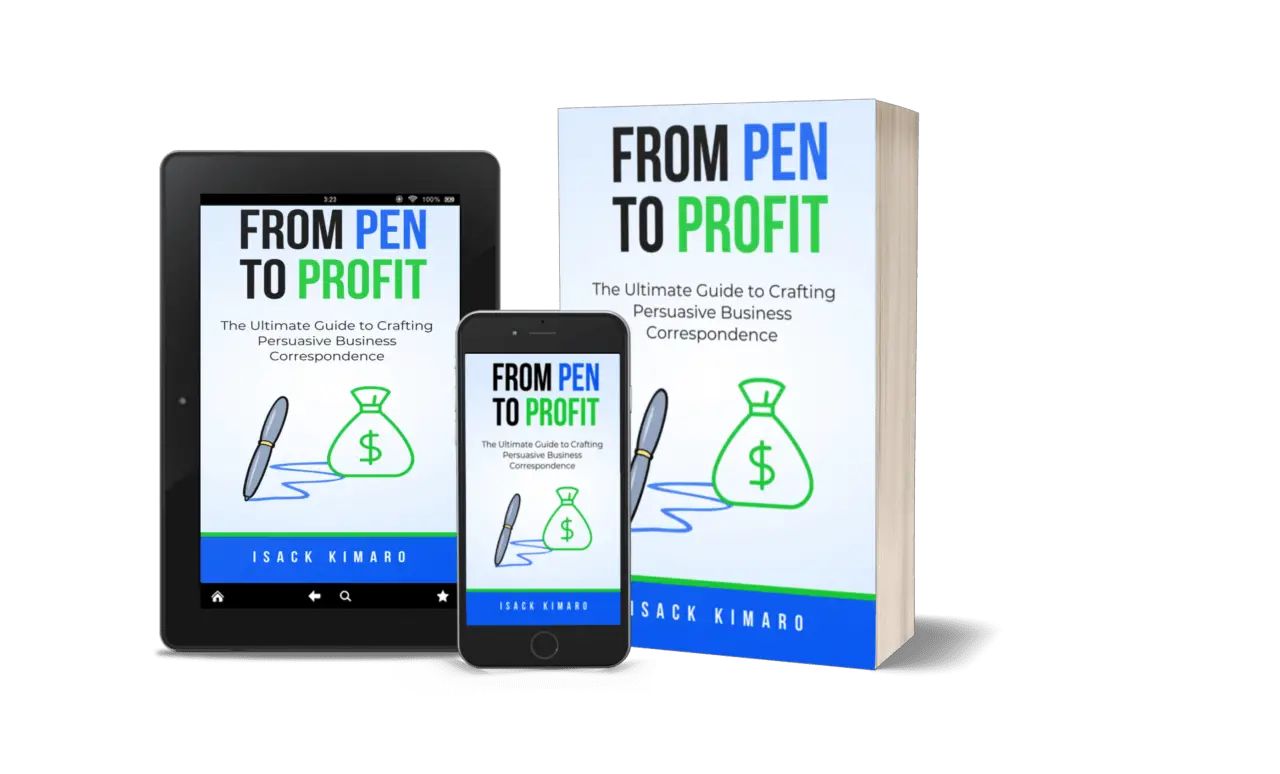 Becoming a lawyer is a challenging and rewarding career path that requires a significant investment of time and energy.
However, the rewards of a successful legal career can be substantial, including a high salary, prestige, and the opportunity to make a real difference in people's lives.
If you're thinking about becoming a lawyer, it's important to understand the steps you'll need to take to make it happen.
Here, I'll walk you through the process of becoming a lawyer, from selecting the right undergraduate major to taking the bar exam, starting your career, and advancing in the Legal Profession
Whether you're just starting to explore the idea of becoming a lawyer or you're ready to take the next step, this guide will provide you with the information you need to succeed based on my experience as a lawyer.
Let's get started
Read also:
How to Become a Lawyer
The following are the steps to becoming a lawyer
Step 1: Choosing an Undergraduate Major
Choosing an undergraduate major is an important step in the process of becoming a lawyer.
A strong undergraduate education is essential for success in law school and in the legal profession.
Recommended majors for aspiring lawyers
While there is no one "right" major for aspiring lawyers, there are certain majors that are particularly well-suited to the demands of law school and the legal profession.
According to my experience as a lawyer, I have seen that one of the most popular majors among aspiring lawyers is political science.
Here is why,
Political science provides a strong foundation in political theory, government, and public policy, all of which are relevant to the study and practice of law.
Apart from political science, other majors that I find well-suited to the demands of law school and the legal profession include philosophy, history, and English.
How to choose the right major for you
Another important factor to consider when choosing an undergraduate major is your own interests and strengths.
This is very important.
Choosing a major that you are passionate about will allow you to 'effortlessly' excel in your academic performance and get a good GPA.
It is important to note that most prestigious law schools require a GPA of 3.85 or higher and only a very few law schools and colleges accept potential student candidates with an undergraduate GPA of 3.49.
However, statistics show that some undergraduates have been accepted at Yale and Harvard with a GPA score of 3.56 and 3.50, respectively, but that may be due to a combination of factors such as having high LSAT scores (you will learn about this in the coming section), outstanding recommendations letters, and a compelling personal statement
Other things to consider apart from your majors
In addition to your major, it is also important to take courses that will help prepare you for law school.
These include courses in critical thinking, research, and writing.
You should also consider taking courses that will expose you to the legal system, such as criminal justice, constitutional law, or business law.
It is also important to consider the admissions requirements of the law schools you are interested in attending.
Many law schools require or recommend specific undergraduate courses, such as English, Mathematics, or a foreign language.
Generally, the most important thing is to choose a major that you are passionate about and that will provide you with a strong foundation for law school and the legal profession.
You should also make sure to take courses that will help prepare you for law school and meet the requirements of the law schools you are interested in attending.
See: Free online law courses that you may take any time anywhere
Step 2: Law school
After successfully finishing your undergraduate major, the next step is to enter a law school.
The right preparation can help you succeed in law school and increase your chances of getting a job after sensational graduation.
To help you have a great law school preparation, here I will take you through the standardized test required for law school, the law school application and admissions process, and how to choose the right law school for you.
Let's dive right into
Taking Standardized tests (LSAT)
The Law School Admission Test (LSAT) is a standardized test that is required for admission to most law schools in the United States and Canada.
The LSAT is offered four times per year and tests your reading comprehension, analytical reasoning, and logical reasoning skills.
It's important to start preparing for the LSAT well in advance of the test date, as a high score can greatly increase your chances of getting into the law school of your choice.
There are various LSAT prep courses, books, and online resources available to help you prepare, but the best place to start is Law School Admission Council (LSAC)
Once you successfully complete the LSAT you will receive a score between 120 and 180.
To set your target score clearly, I advise you to check the LSAT score range and median score of your dream law school so you can find out what score is needed to get into that law school.
According to US News, you should aim for an LSAT score of at least 150 if you want to go to any accredited law school.
If you want to go to the top 25 ranked law school, aim for a score of 160 or higher.
If you want to go to the top 10 ranked law school, aim for a score of 170 or higher.
After you have taken the LSAT and passed, you will be ready to apply to law schools.
Law school applications and admissions
Now you have passed the LSAT.
Congratulations!
It's time to apply for law school
The law school application process typically includes filling out an application form, submitting transcripts, and recommendation letters, writing a personal statement, etc.
You should also be prepared to submit your LSAT score and any other relevant test scores.
The admissions process can be competitive, so it's important to have a strong application.
Choosing the right law school
When choosing a law school, it's important to consider the school's reputation, location, and curriculum.
Here is why,
A school with a strong reputation can open more doors for you after graduation, and a school located in a city with a thriving legal market may provide more opportunities for internships and job placements.
It's also important to consider the curriculum offered by the school and whether it aligns with your personal and professional goals.
Some law schools specialize in certain areas of law, such as environmental law or international law, and may have strong faculty and resources in those areas.
In addition to researching the school's reputation, location, and curriculum, it's also important to visit the law school and talk to current students and other relevant officials.
This will give you a better sense of the school's culture and resources and help you determine if it's the right fit for you.
You can check this list of the best law schools in the US according to US News to start building your wish list.
Law School Curriculum and Experience
The law school curriculum is designed to provide you with a broad understanding of the legal system and the skills necessary to practice law.
The curriculum typically includes courses in legal research and writing, contracts, property, torts, criminal law, and constitutional law.
In addition to these foundational courses, many law schools offer elective classes in specialized areas of law such as tax law, environmental law, and intellectual property law.
Clinical experience and internships
In addition to traditional classroom instruction, the law school also provides you with the opportunity to gain hands-on experience through clinical programs and internships.
Clinical programs allow you to work with real clients under the supervision of a licensed attorney.
This experience you a chance to apply what they have learned in the classroom to real-world situations, and also to develop practical legal skills such as interviewing clients, drafting legal documents, and arguing in court.
Internships are also your opportunity to gain practical experience in the field of law.
You may intern with law firms, government agencies, non-profit organizations, or other legal organizations.
Through these internships, you can gain valuable experience and insight into the legal profession and also make connections that may be beneficial when seeking employment after graduation.
See: Cover letter for law internship application (guide & free samples)
Networking opportunities
Networking is also an important aspect of law school.
Law school allows you to connect with other students, professors, and legal professionals through law school organizations, clinics, and internships.
These connections can be valuable when it comes time to apply for jobs after graduation.
What to expect in law school
Generally, a law school program typically lasts three years (if you are taking it full-time) and four years (if you are taking it part-time).
The following is what you should expect in law school from your first year to the last year.
First-year
As a first-year (1L) law student in the US, you will be required to take a foundational set of courses that will introduce you to the legal system and the basic principles of legal reasoning.
These courses may include:
Legal Writing: This course will teach you how to effectively communicate in legal writing, including how to analyze cases, research legal issues, and write legal briefs.
Contracts: This course will cover the basic principles of contract law, including the formation, interpretation, and enforcement of contracts.
Torts: This course will cover the principles of tort law, which deals with civil wrongs and injuries to individuals or their property. You will learn about different types of torts such as negligence, defamation, intentional torts, and strict liability.
Criminal Law: This course will cover the principles of criminal law, including the elements of various crimes, the constitutional rights of criminal defendants, and the procedures used in criminal trials.
Constitutional Law: This course will cover the principles of constitutional law, including the powers of the federal and state governments and the rights and protections provided to individuals by the Constitution.
Other courses that you may be required to take as a 1L law student include property law, civil procedure, legal research and writing, and legal ethics.
The exact curriculum may vary depending on the law school you attend.
Second Year
As a second-year student, also known as a 2L, you will likely begin to focus on other activities that will help you further develop your legal skills and knowledge.
These activities may include joining Law Review, which is a student-run publication that focuses on legal research and writing.
This is an opportunity to hone your writing skills and gain experience in legal research.
Another activity that you may participate in as a 2L is Moot Court.
This is a competitive event where teams of law students argue a fictional legal case in front of a panel of judges.
Moot Court is an excellent opportunity for you to gain experience in legal argumentation and to develop your public speaking skills.
Additionally, as a 2Ls may also participate in other extra-curricular activities such as mock trials, legal clinics, and pro bono work.
These activities provide hands-on experience and allow you to apply your legal knowledge in a practical setting.
These activities also provide opportunities to network with legal professionals and gain valuable experience that can help in their future careers.
Generally, as a 2L, you will have many opportunities to further develop your legal skills and knowledge through various activities such as Law Review, Moot Court, and other extra-curricular activities.
These activities are a great way to gain practical experience and prepare for your future career in the legal field.
Third year
As a third-year student, you will have the opportunity to delve deeper into specialized areas of law that interest you.
Electives such as international law, immigration law, anti-trust law, or intellectual Property Law.
The following resources are essential for achieving success in law school
At the end of the day
Once you graduate from law school you will be awarded A Juris Doctor (J.D.) degree.
With a J.D., you have officially become a lawyer and you will be able to take the bar exam and become licensed to practice law in your state.
A J.D. indicates that you have completed the necessary coursework and training to become a practicing attorney.
Step 3: Taking the Bar Exam [from lawyer to practicing attorney]
A bar exam is a magnificent tool that turns you from being a lawyer to a licensed practicing attorney (to understand, read this post where I talk about the difference between a lawyer and an attorney)
The bar exam is a standardized test that assesses your knowledge of the law and your ability to apply it to real-world situations.
It is typically administered by the state in which you wish to practice law, and passing the exam is a requirement for being admitted to the bar.
Eligibility requirements
Before you can take the bar exam, you must first meet the eligibility requirements set by the state.
These requirements may include a certain number of years of legal education or the completion of a specific law school program.
It's important to check with the state board of bar examiners for specific requirements.
Exam format and content
The bar exam is usually a two-day exam, and the format and content can vary depending on the state.
It typically consists of The Multistate Bar Examination (MBE), and a written test (essay or performance test).
The MBE consists of a six-hour, 200-question multiple-choice examination covering legal knowledge in several core areas such as Constitutional Law, Contracts, Criminal Law, Evidence, Real Property, and Torts.
The written test evaluates your ability to analyze legal issues and communicate your arguments effectively.
Bar exam preparation
Preparing for the bar exam can be a daunting task, and it's important to start early.
To ensure you are well prepared, I advise you to take bar exam preparation courses and learn from a variety of bar exam study materials available, including books, flashcards, and online resources.
It's also a good idea to practice answering sample questions and taking mock exams to get a sense of what to expect on the actual exam.
You may learn more about the bar exam from Harvard law school or the American Bar Association websites
After Bar exam
It's important to remember that passing the bar exam is just one step in the process of becoming an attorney.
Once you pass the exam, you have to
Pay bar dues
Get sworn into the state bar (you can't swear unless you have paid all the dues)
 Complete Continuing Legal Education (CLE) credits.
Complete a period of supervised legal practice, known as the "apprenticeship" or the "clerkship", before you can practice law independently.
However, those things may differ from state to state.
REMEMBER as a lawyer, you will never stop learning.
There are new regulations that alter the way things were done previously.
And there are always new situations to contend with.
When you pass the bar exam, you will have to go through costly licensing procedures, but you will be on your way to the rest of your legal career.
Do you still want to become a lawyer?
Starting Your Career as a Lawyer
After completing law school and passing the bar exam, you will be ready to begin your journey as a practicing attorney.
Here are some key steps and considerations to keep in mind as you start your career:
Finding a job as a lawyer
The job search process for lawyers can be competitive, especially in large cities or specialized fields.
Networking is key, so make sure to use any connections you have made through internships, law school, or other professional relationships.
Many law firms and organizations also recruit on college campuses, so be sure to attend any job fairs or events that take place at your law school.
Types of legal practice areas
There are many different types of legal practice areas, from criminal defense to corporate law to intellectual property.
Consider what type of law you are most interested in and start exploring job opportunities in that area.
Some lawyers choose to specialize in a particular area of law, while others prefer to work in general practice.
Read also:
Advancing in the Legal Profession
As you gain experience and build a reputation for yourself, you may be able to take on more responsibility or move up the ladder at your firm or organization.
You may also choose to move to a larger firm, start your own practice, or even pursue a career in public service or government.
Continuing your education through seminars and conferences can also help you stay current and advance in your field.
Read: How to become a good lawyer
Conclusion
Up to this point, I believe it is now clear to you that becoming a lawyer is a challenging and rewarding career path that requires a significant investment of time and energy.
However, with the right preparation and mindset, anyone can succeed in the legal profession.
By understanding the steps involved in becoming a lawyer, from selecting the right undergraduate major to taking the bar exam and starting your career, you can set yourself up for success.
Throughout this guide, I've provided tips and resources to help you navigate the process of becoming a lawyer.
I've discussed the importance of a strong undergraduate education, the role of the LSAT and law school applications, the curriculum and experience of law school, and the bar exam.
I've also discussed the various types of legal practice areas and the opportunities for advancing in the legal profession.
I hope that this guide has provided you with the information and inspiration you need to pursue your dream of becoming a lawyer.
Remember to stay focused, stay motivated, and take advantage of the resources available to you.
With hard work and determination, you can achieve your goal of becoming a lawyer.
Regards.
Related: How to Become a Paralegal: Education, Certification & Job Opportunities