How to improve legal writing skills 2023 (guide + examples)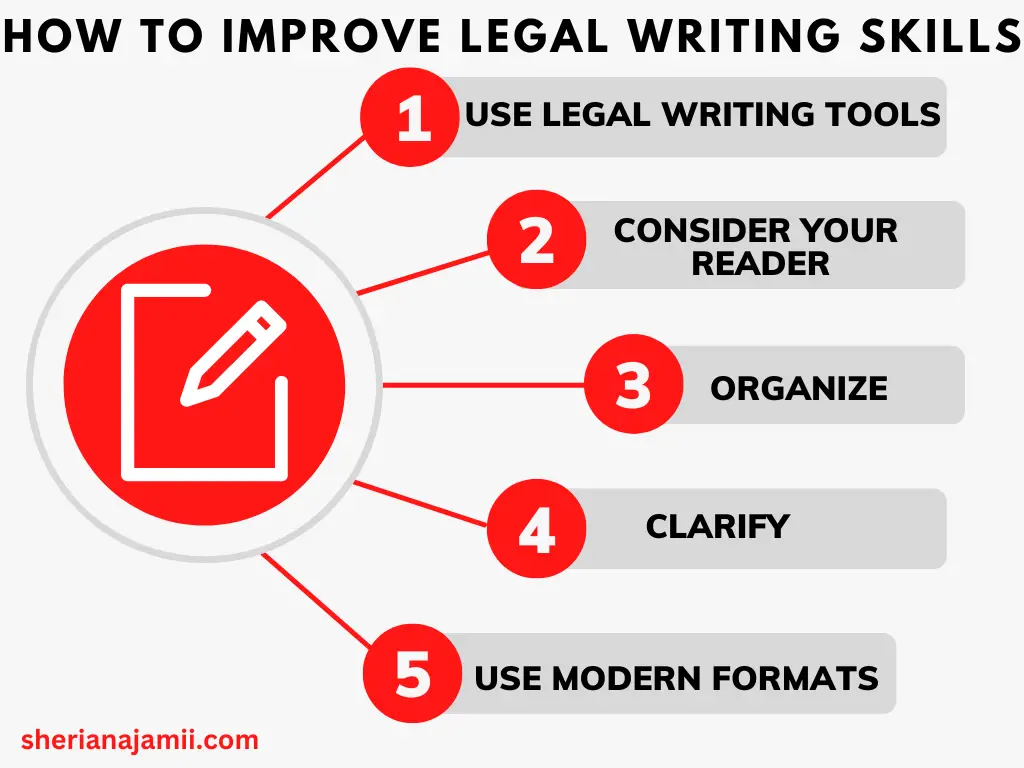 Looking for how to improve legal writing skills?
Here, with vivid, examples I will share with you the top 8 easy-to-apply techniques to improve legal writing skills that you can start using immediately on your next legal writing task, ooh! even now.
How to improve legal writing skills
The following is how to improve legal writing skills
Use legal writing tools
Transform Your Communication, Elevate Your Career!
Ready to take your professional communication skills to new heights? Dive into the world of persuasive business correspondence with my latest book, "From Pen to Profit: The Ultimate Guide to Crafting Persuasive Business Correspondence."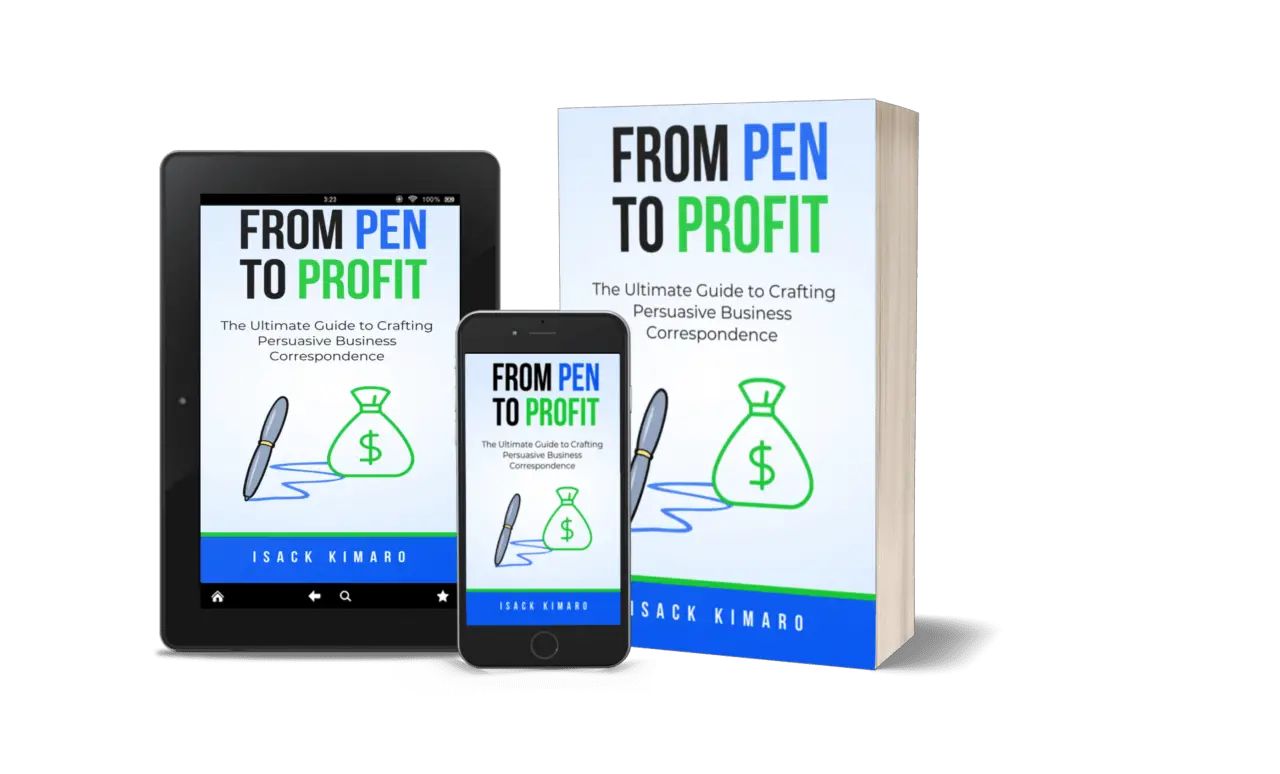 There might be several legal writing tools you can try, but the only tool that I recommend you to use if you want to astonishingly improve your legal writing skills is Grammarly.
Of course, Grammarly helped me to improve my legal writing skills by 110% within 11 weeks 
Grammarly is the best legal writing tool due to the following reasons
With Grammarly, you can add your legal jargon to its dictionary with a single click
Available on different platforms i.e. you can use Grammarly through chrome extension, as a desktop, Mac, mobile keyboard, and as an online text editor.
Grammarly is 100% unless you want to upgrade to the premium version
Easy to set up
The best part?
Grammarly can help you archive all tips shared in this post, in fact, Grammarly can help you, clarify your purpose, write Complete and Accurate, Choose Your Words Thoughtfully, etc.
Grammarly should be in every lawyer's toolbox and it is FREE to download!
Install Grammarly now   or  learn more about Grammarly
Clarify Your Purposes
When beginning a legal writing task, you first need to settle on your exact purpose for writing.
Legal writing is a special form of writing and in most cases, you write to question, inform, persuade, and acknowledge facts, record processes, or record agreements.
If your purpose is to inform, make sure you write the information clearly.
Consider Your Reader
To become the best legal writer you must determine your reader's concerns. Always put yourself in the reader's place and figure out how you'd want to be addressed in that situation.
The skills, interests, vocabulary, and knowledge level of your reader will determine your tone, vocabulary, and the amount of detail and explanation required.
If you are writing to your own client, be considerate about the client's state of mind, knowledge of the area of law, familiarity with legal terminology, and level of interest in the legal issues.
For example, instead of using legal language like 'this is to acknowledge your letter of recent date, the contents of which have been duly noted. In the third paragraph thereof…' you may write I have received and carefully considered your letter of June 13. In its third paragraph…
To earn the reader's full attention:
Write to the correct person.
Get that person's name and position right.
Use an appropriate salutation and closing.
Be consistent with earlier correspondence to the same person.
Be courteous and diplomatic.
Use non-sexist language.
Adjust your tone to suit the reader's sensibilities.
Write Complete and Accurate
The content and format of your legal writing will depend on your purpose and the reader's interests.
Anything you draft should be complete in itself. Your reader should not have to read a legal file to understand your draft; if they must, it will result in delays.
How to write a complete and accurate legal letter
Use both your own and the reader's file reference number. File reference numbers help because you or the reader may represent the client in more than one legal matter. In a large firm, you may even have two clients with the same name.
Modernize the style of the reference line. You don't need to include Re: or Subject: in your reference line. The reference line is conceptually part of the body of the letter and should be closer to it than to the address.
Use bold type, italics, and capitals or underline to highlight the subject line, but don't combine techniques.
Your opening paragraph should introduce you or your purpose in writing. Example: I am writing to accept the terms of settlement proposed by you in a letter dated April 16, 2021
Give the reader all the information needed to deal with your letter.
Answer the questions Who, What, When, Where, Why, And How?
The closing paragraph should be a genuine expression of courtesy.
Choose your tone carefully: The final words of your letter will echo in the reader's mind and leave a general impression.
Stay away from trite phrases like Thank you in advance for…, we look forward to hearing from you at your earliest convenience…, hoping for the favor of an early reply… But rather give a call to action to focus the reader on what you expect next
Try a direct specific statement like promptly after hearing from you, we will… or Use a courteous request or instruction like Will you please notify us when…, please mail the signed release to…etc.
Organize your writings for Highest Impact
The following is how you can organize your legal writing for the highest impact;
Put the topics in an order that suits your audience and purpose
Keep paragraphs short.
Use topic headings to break up a long letter.
Use a cover letter because Lawyers often ask that a duplicate copy of a letter be signed and returned to confirm the client's agreement to a retainer or terms of the settlement. Therefore it is preferable to write a cover letter explaining what you are doing and enclose two copies of a letter of agreement, with one to be signed and returned.
Choose Your Words Thoughtfully
The simpler your words, the clearer your message.
There is no excuse for using legal jargon in letters to clients or business associates. If you must use legal terms of art then provide a brief explanation or definition and apply it to the circumstances.
Write as you would speak in professional settings. Those formalisms that make legal correspondence stuffy have to go.
For example
| Legal Language | Plain language |
| --- | --- |
| at this point in time | now |
| in the event of | if |
| pursuant to the terms of | under |
| under date of, | on, dated |
| meets with our approval | we approve |
| move for a continuance | ask the court to postpone |
| Attached please find | Attached is |
| I am of the opinion that | i think |
| I am not in a position to | I cannot |
| In compliance with your request | As you asked |
Use Modern Formats
Using the modern format in legal correspondence will help you handle salutations and gender issues properly.
When writing to another firm or to an organization, you often do not know who will be the recipient of the letter the solution is to skip the salutation.
If you don't know the individual's name and you are writing to the holder of a particular job, use the position title, placing it directly above the address.
Example:
Managing Partner
Litigation Department
Holmes, Henrik, and Hoben
456 Suisse Place
Zurich, Switzerland
When you are using an attention line to identify an individual, don't use a salutation. A salutation is repetitious here anyway:
Smith, Hobkirk, and Smitt
124 Horten Boulevard
Denton, Alberta A3T 1W3
Attention: Ms. Doris Elton
Corporate Legal Assistant
If you know a woman's name, you can include it in the attention line without referring to marital status:
Attention: Barbara Ward, Personnel Administrator
Or you can use her full name in the salutation: "Dear Barbara Ward," or use Ms.—created for just this purpose.
Instead of "Dear Sirs," use "Ladies and Gentlemen," or use the name of the department: "Dear Litigation Department,".
Once you've begun corresponding with someone, adopt their chosen position title and any other designation.
Keep the psychology of readers in mind
Set the scene to make the reader comfortable. The structure of a letter sometimes causes information anxiety in the reader.
Give positive news early. If you have something positive to report, don't keep the reader in suspense. Say "yes" quickly, then supply the necessary details and close your letter in a friendly or upbeat way.
Give bad news in a neutral or positive tone
Remember that nobody likes rejection. A letter that says "no" is best written in a neutral or constructive tone. At least say thank you for the request, complaint, or offer.
When you are reporting a decision you have made, set out the context for your decision so the reader is receptive. If you are able to disclose the reasons, explain why you rejected the request.
Be gracious when you deliver an unwelcome message. Try to say "no" indirectly rather than directly. Let the reader infer the "no".
How to say No
Reject the request, not the person who made it.
Say thank you for the request.
State the context for the decision so you can prepare the reader.
Say "no" graciously (or by inference).
E.g. To take this case would be to mislead you as to the likelihood of eventual success…
Provide an out (a positive alternative).
E.g. If other supportive facts come to light, do not hesitate to contact me again.
Close with a positive statement.
e.g. I appreciate your consulting me about this matter and would be pleased to discuss other matters with you in the future.
Final remarks
My task here was to share with you how you can improve your legal writing skills astonishingly
The bottom line is that, after learning the tips and the basics of legal writing, the best way to become the best in legal writing is by practice practice practice.