Looking for the best quotes for lawyers or law students that can inspire you to study, motivates you to keep going, and are funny enough to make you smile or even laugh?
I got you covered.
Being a lawyer, or even studying law might feel overwhelming, and sometimes you will need to look for something that can make you relax and feel better.
The good news is, that can be archived through quotes.
The following is the list of the best inspirational yet motivational and funny quotes for law students, and lawyers from authors, lawyers, and all public figures you can never imagine.
Read also: How to become a lawyer: From Undergrad to the Bar
Inspirational quotes for law students and lawyers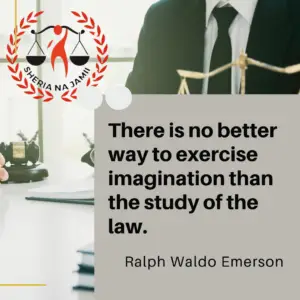 1. Lawyers are the foot soldiers of our Constitution.-RENNARD STRICKLAND & FRANK T. READ, The Lawyer Myth
2. "The study of law can be disappointing at times, a matter of applying narrow rules and arcane procedure to an uncooperative reality; a sort of glorified accounting that serves to regulate the affairs of those who have power—and that all too often seeks to explain, to those who do not, the ultimate wisdom and justness of their condition. But that's not all the law is. The law is also memory; the law also records a long-running conversation, a nation arguing with its conscience."
– Barack Obama in Dreams from My Father: A Story of Race and Inheritance
3. There is no better way to exercise imagination than the study of the law. -Ralph Waldo Emerson
4. "Do what is right, not what is easy nor what is popular."― Roy T. Bennett, The Light in the Heart
5. You must keep your mind on the objective, not on the obstacle. – William Randolph Hearst
6. Do not wait: the time will never be 'just right'. Start where you stand, and work whatever tools you may have at your command and better tools will be found as you go along. ― Napoleon Hill
7. "Courage is the most important of all the virtues because, without courage, you can't practice any other virtue consistently."― Maya Angelou
8. "A lawyer without books would be like a workman without tools."- Thomas Jefferson
9. "Pursue what catches your heart, not what catches your eyes."― Roy T. Bennett, The Light in the Heart
10. Build your own dreams, or someone else will hire you to build theirs. – Farrah Gray
11. Success is nothing more than a few simple disciplines, practiced every day. – Jim Rohn
12. Nothing great was ever achieved without enthusiasm. – Ralph Waldo Emerson
13. Success usually comes to those who are too busy to be looking for it. – Henry David Thoreau
14. "Success is not how high you have climbed, but how you make a positive difference to the world."-― Roy T. Bennett, The Light in the Heart
15. The way of success is the way of continuous pursuit of knowledge. ― Napoleon Hill
16. Start where you are. Use what you have. Do what you can. – Arthur Ashe
17. The fastest way to change yourself is to hang out with people who are already the way you want to be. – Reid Hoffman
18. I considered going into business or becoming a lawyer – not for the money, but for the thrill of problem-solving.-Lisa Randall
19. The only way you can beat the lawyers is to die with nothing. -Will Rogers
20. "Don't be pushed around by the fears in your mind. Be led by the dreams in your heart."― Roy T. Bennett, in The Light in the Heart
21. "Live the Life of Your Dreams: Be brave enough to live the life of your dreams according to your vision and purpose instead of the expectations and opinions of others."― Roy T. Bennett, in The Light in the Heart
22. "Believe in yourself. You are braver than you think, more talented than you know, and capable of more than you imagine."― Roy T. Bennett, in  The Light in the Heart
23. "It's only after you've stepped outside your comfort zone that you begin to change, grow, and transform."
― Roy T. Bennett
funny lawyer quotes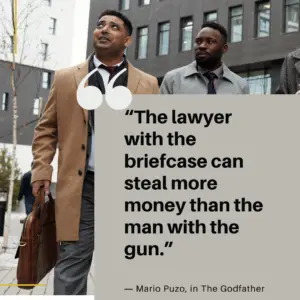 24. "The lawyer with the briefcase can steal more money than the man with the gun."
― Mario Puzo, in The Godfather
25. You cannot live without lawyers, and certainly, you cannot die without them.– Joseph H. Choa
26. Don't misinform your Doctor nor your Lawyer.-Benjamin Frankl
27. Only lawyers and painters can turn white to black.– Japanese Proverb
28. "It is a pleasant world we live in, sir, a very pleasant world. There are bad people in it, Mr. Richard, but if there were no bad people, there would be no good lawyers." ― Charles Dickens, in The Old Curiosity Shop
29. "There is no client as scary as an innocent man." J. Michael Haller, Criminal Defense Attorney, Los Angeles, 1962." quoted by Michael Connelly, in The Lincoln Lawyer
30. "The minute you read something that you can't understand, you can almost be sure that it was drawn up by a lawyer."― Will Rogers
31. "I wish the country had fewer lawyers and more engineers."― Barack Obama, in The Audacity of Hope: Thoughts on Reclaiming the American Dream
32. "Daemons, vampires, ghouls, whatever you want to call them. They suck your blood and your soul and leave you with nothing. Kind of like lawyers. (Selena)"― Sherrilyn Kenyon, in Night Embrace
34. "Divorce lawyers stoke anger and fear in their clients, knowing that as long as the conflicts remain unresolved the revenue stream will keep flowing."― Craig Ferguson, in American on Purpose: The Improbable Adventures of an Unlikely Patriot
35. "A judge is a law student who marks his own examination papers. "― H. L. Mencken
36. I am a law student in my first year at the law, and there are many moments when I am simply a mess."― Scott Turow
37. Make crime pay. Become a lawyer.- Will Rogers
38. The power of the lawyer is in the uncertainty of the law.-Jeremy Bentham[mfn]Jeremy Bentham, John Bowring (1842). "The Works of Jeremy Bentham, Now First Collected", p.429[/mfn]
39. Lawyers are the only persons in whom ignorance of the law is not punished.- Jeremy Bentham
40. He is no lawyer who cannot take two sides.-Charles Lamb
41. "Politicians were mostly people who'd had too little morals and ethics to stay lawyers."― George R.R. Martin, Ace in the Hole
42. "Lawyers were notorious for finding cases in the most unlikely places, especially ones with huge potential damages awards."― Jodi Picoult, Handle with Care
43. "Shabelsky: Doctors are the same as lawyers, the sole difference being that lawyers only rob you, but doctors rob you and kill you too…"― Anton Chekhov, Ivanov
44. "A prisoner's shackles would always be a lawyer's joy."― Dennis E. Adonis
45. "Some people don't like lawyers, that is until they need them"― Kenneth Eade, Predatory Kill
Law school quotes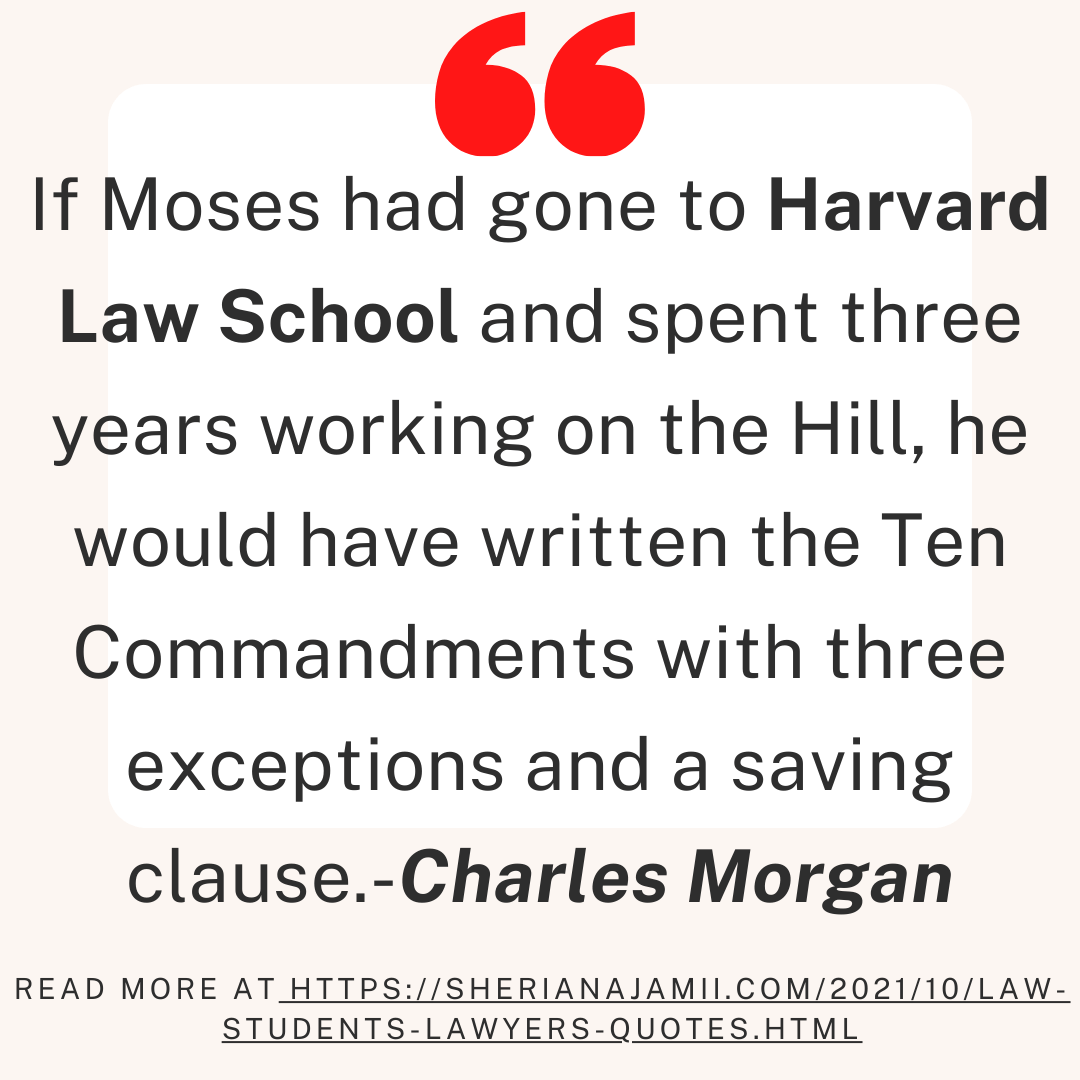 46. "If Moses had gone to Harvard Law School and spent three years working on the Hill, he would have written the Ten Commandments with three exceptions and a saving clause".-Charles Morgan
47. "All students enter law school with a certain amount of idealism and desire to serve the public, but after three years of brutal competition we care for nothing but the right job with the right firm where we can make partners in seven years and earn big bucks."― John Grisham, in The Rainmaker
48. I got into law school, and it required a maturity I didn't have at the time-Ronny Chieng
49. When I went to law school, I took a bankruptcy class with my then-professor, now Senator Elizabeth Warren. And I'll never forget that first day of class, hearing her talk about the importance of the bankruptcy system-Katie Porter
50. I soon found law school an unmitigated bore. Constance Baker Motley
51. One goal of the law – as we learn in law school from the first day of contracts – is to deter bad behavior. Marvin Ammori
52. I wasn't meant to be an attorney, but I was meant to go to law school-Eddie Huang
53. I chose to go to law school because I thought that someday, somehow I'd make a difference-Christopher Darden
54. The smartest thing I did in law school: asking my future wife to go out dancing with me. The smartest thing I did when practicing law: quitting. The smartest thing I've done in writing: following my own head and writing what I wanted to write, and nothing but….-Ben Fountain
55. Make no mistake about it: Law school is not a bastion of intellectual discourse-Tucker Max
56. One of the things I learned in law school is that there's nothing wrong or undesirable or dishonorable or destructive about amending the Constitution-Adrian Cronauer
57. What do lawyers learn in law school? They learn to win… What we've got to start thinking about is how we solve problems-Ben Carson
58. I went to law school. I found it interesting for the first three weeks-Demetri Martin
59. Nothing replaces real-life experience. Of course, I say this as someone who went to law school-Daniel L. Doctoroff
60. The more lawyers there are, the more people are out there to encourage others not to go to law school-David E. Kelley
61. At some point in their life, everyone thinks they should go to law school. You may in fact think you want to go to law school now-Tucker Max
We are sorry that this post was not useful for you!
Let us improve this post!
Tell us how we can improve this post?