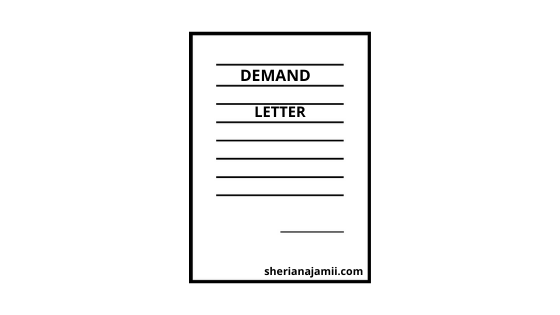 This is a sample of the demand letter from an attorney. This sample will show you how attorneys prepare their demand letters professionally.
[Insert addressor]
[Insert addressee]
RE: DEMAND NOTICE AND INTENTION TO SUE
Our Law Firm has been instructed by our client, MR.ABC, with whom you ought to be very well acquainted, to write this communiqué to you, for purposes of record and avoidance of doubt, and bring to your notice with the express intention to inform you and demand from you the following:
That is, your Newspaper 'The A OR B' of Wednesday, 11th February in The Year of Our Lord [insert year] on the front page, of your other magazine named XYZ, and on their corresponding websites, you published a major headline with a running the title "MR. ABC on Regional and International Armed Forces Wanted List."
The articles contain defamatory information against our client, Mr.ABC; they portray our client Mr. ABC as a dangerous person who committed a crime against children, a criminal involved in kidnapping, and a fugitive.
You are aware, and or by reasonable due diligence, ought to know, or be in a position to be well informed that the information in the articles are false, untrue and have no iota of artificiality and above all has all the ingredients of defamation.
We would like to bring to your attention, notice, and information that our client, MR.  ABC is a good public servant and a well-respected member of society.
He has been an employee of the DEF CO. LTD the Year of Our Good Lord, Nineteen Hundred and Seventy (1970), providing valuable services to this country, the regions at large, including but not limited to the international community.
Also, Mr. ABC has never committed a crime against children neither has he abducted anybody.
Mr. ABC is not on the run neither is any Local, Regional, or International Criminal Agency looking for him. Indeed, the article has inflicted serious social, psychological, and financial damages to Mr. ABC, his family, his relatives, and his friends, his agents, and potential business partners and has provoked havoc within the family, relatives and the entire circle of friends and business partners.
Given the above, MR. ABC  hereby demands that:
You unequivocally revoke, retract, rescind, withdraw or otherwise in any manner, remove the information in the contested articles on Mr. XXV in the above-mentioned articles by immediately, and without further delay, publishing any  article, with the same or more font size of the running title and text body as the  contested articles, by Inter Alia, categorically stating that the information provided in the   contested articles were false, fallacious, wrong, incorrect, and or otherwise  untrue and unverified;
Providing new and accurate information that will be verified by Mr. ABC; Completely deleting the articles from subject The A OR B' newspaper and the XYZ magazine, and corresponding websites and keep the new articles  active for at least one calendar year, that is twelve clear months;
sincerely apologize for writing to Mr. ABC as a result of the libelous publications against him in the above-motioned articles.
Take note that should you fail, neglect, ignore, disregard, overlook, or otherwise refuse,  to heed to this demand notice and the contents herein within 21 (Twenty One) days from the date of service of this notice, rigorous legal proceedings shall be preferred against you at your peril and risk and related subsequent costs arising wherefrom, without further notice.
BE INFORMED, WARNED, AND CAUTIONED ACCORDINGLY
……………………………….. (Advocate)  Signature…………………………………..
NB: All correspondences should be directed to the above address.
Read also