This is a definitive guide on how to manage and market your small law firm.
In this guide, you will learn
what is a small law firm
why most small law firm fails
effective small law firm management and organizational structure
small law firm marketing strategies
etc.
What is a small law firm?
Generally, a firm that has 1-9 attorneys and less than 4 years since it was established is termed to be a small law firm.
Why do most small law firms fail?
Small law firm fails because of a lack of effective marketing strategies, financial instability, starting with the wrong team/partners, starting in the wrong physical location, starting up with the wrong mentality, giving up too early, poor management, etc.
Starting Up With Wrong Mindset/Mentality
Most lawyers, when they are starting their law firm they see money on their minds. They don't see the service, brand, or reputation of their firm.
If you are a lawyer and you want to establish your law firm for the purpose of getting money, forget about that, or otherwise, you will fail.
Money is not the cause but the result. First, you should focus on offering value to your clients and money will follow. More value is equal to more money.  Money is an exchange of value
For me, Focusing on money instead of value is the wrong mentality.
The fact is, you will make little money or no money at all at the beginning, and if you're not patient enough you will give up and close your office.
Giving up too Early
Giving up too early? Yeah!  Giving up too early is one of the reasons why most small law firms fail.
The fact is it takes 2 to 3 years for any business to prosper.
Most of the small lawyers are not patient enough to hold on.
Starting With the Wrong Team
I can't emphasize the importance of having the right team in accomplishing any mission. When one person in a team is thinking about money, another is thinking about fame and another thinks about nothing, you can go nowhere.
If your team does not have a common goal and vision. Your firm is apt to fail.
Make sure your entire team is on the same page.
Location
Location is a prerequisite to any business's success. Small Law firms that start in highly competitive areas fail to compete with big firms and finally collapse.
Lack of Long-Term Vision
Having a vision enhances Sense of purpose and can make you keep going and be committed to your dream.
Vision acts as a road map of any organization. Most small law firm lacks long-term vision thus they don't know where they are going. When they face challenges they are totally discouraged and consequently they close
Area of Practice
In Lawyer and Stress, I said that "Some areas of the law are most challenging than others."
Here I say further that, there are some areas of law that have fewer clients than others and this depends on factors like location, social and economic activities, and people's demand.
Choosing the wrong area of practice may lead to struggle and finally collapse.
Most small law firms focus on high-paying areas of practice, I advise you to focus on the area in which you are capable of rendering the best service compared to your competitors.
Poor Marketing Strategies
Most small law firm lacks effective marketing strategies to help them attract clients, build their brand and penetrate the market.
Clients are the lifeblood of any business, failure to attract clients means the failure of the business.
How to Manage a Small Law Firm
The best ways to manage a small law firm includes; setup good leadership, management, and organizational structure (the winning team), automating your tasks through tools and software, delegating, ensuring effective communication systems, taking care of your financials by opening all necessary Bank accounts, lastly make sure you hire experts
Have a good Leadership, Management, and Organizational Structure
A good management structure is very essential in the management of your law firm. This is where the success or failure of your firm begins.
Small law firm organization structure/ chart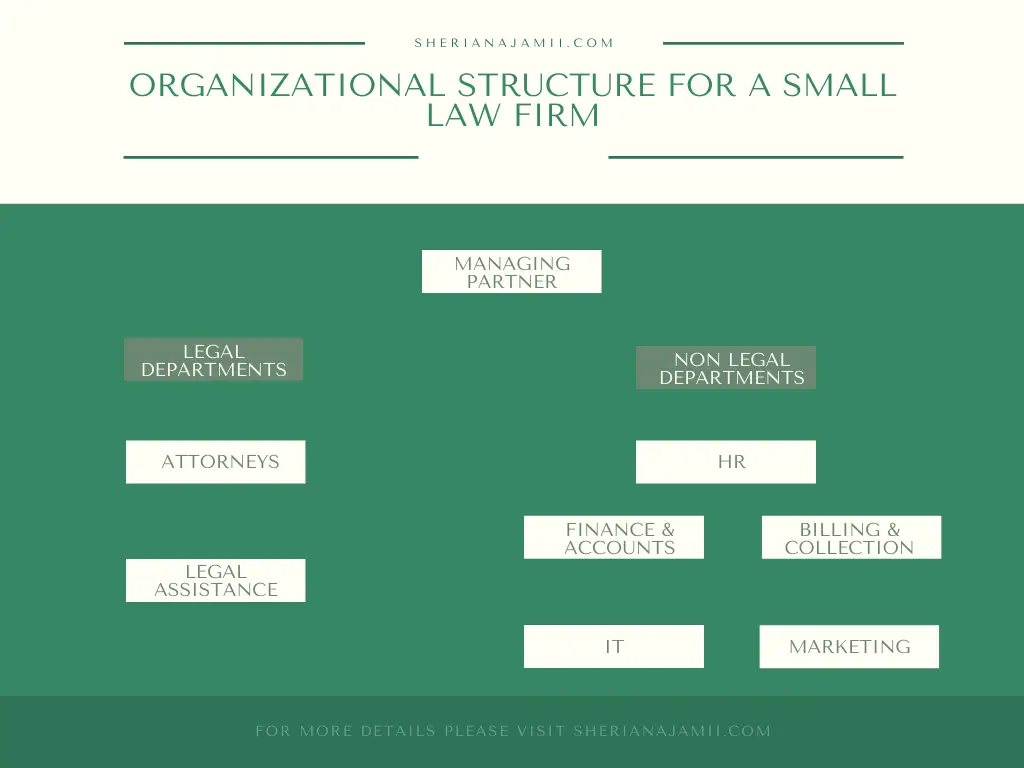 Make sure the structure of your law firm consists of legal departments and non-legal departments
Legal Departments
Managing Partner office- for arranging and making the major decision of the law firm
Attorneys- for conducting day to day legal activities
Legal assistance-these helps attorneys in their daily activities. (It is not a must to have them if you're starting but as you grow, they are very useful in firm performance)
Non-legal Departments
Office management and Human Resources – for coordinating, and facilitating office operations
Finance and accounts –for budgeting, bookkeeping, taxes, etc. This is a must department if you will not hire then outsource.
Billing and collection- for billing clients and collects money from clients
IT- for set up and maintenance of IT appliances if any
Marketing- for developing and implementing marketing strategies
Once you have a good organizational structure then you may observe the following to ensure proper management of your law firm.
You can learn more about the law firm organizational chart and structure from Lawyerist through this wonderful article 
Open all Necessary Bank Accounts
One important area that needs attention when it comes to a law firm is the financial area.
Here is where the life or the death of the firm commences.
To properly manage your small law firm makes sure you have all necessary accounts separately. Don't put all money into one account. Open client account, checking account, saving account, and any other accounts according to your demand.
This can be well done and managed by Finance and accounts department.
Effective Communication System
Effective communication entails the flow of information from one person to another or from one department to another within your law firm.
Effective communication within your law firm will enhance the coordination of all departments.
All departments must be connected with proper communication otherwise, your firm will malfunction.
Do you want to learn how to communicate effectively as a lawyer? read here
Delegation and Automation
Technology will help you manage your law firm effectively by automatically performing some of the duties like reminders, case follow-up, client profile, etc. Make use of good legal practice management software to enhance the management of your law firm.
You may start to look for simple software you can afford and move to sophisticated as you grow.
The delegation will help you archive efficiency. Delegate every task to its appropriate department. This will enhance the smooth operation of your internal processes.
NB. Management of your firm will be easy if you have the right team, otherwise, you will fail.
Small Law Firm Marketing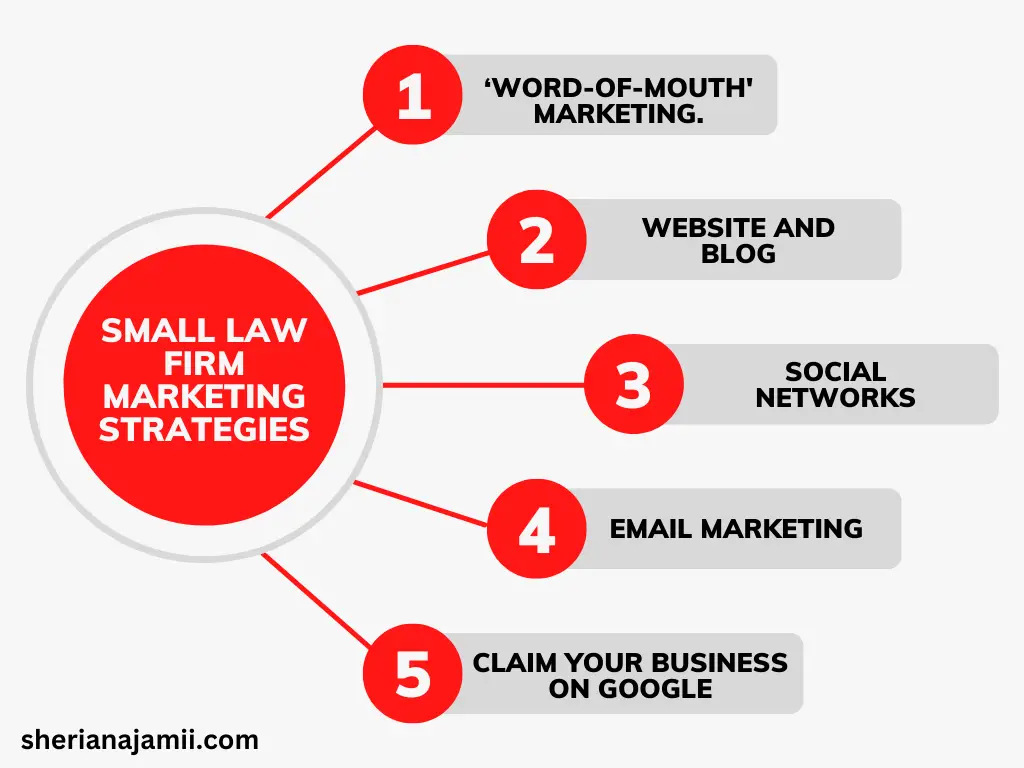 Small law firm marketing entails all possible means through which a firm will apply to attract potential clients.
Small law firm marketing involves both online/digital methods and offline/physical methods.
The digital methods for marketing a small law firm include; the use of websites/blogs, social networks, Ads networks, etc. while the physical methods for marketing a small law firm include 'word of mouth marketing, social and educational events, and campaigns, etc.
Marketing a small law firm will help a firm to reach and inform potential clients about its services. It will enhance engagement with your client and the growth of a firm.
Observe 'The First Impression is the Best Impression' Rule
Observing the 'the first impression is the best impression' rule is a must thing for any starting business with the aim to grow.
Since you are starting, make sure you impress every client your meet for the first time.
Your client must be impressed with the general environment of your office, the professional look of your personnel, and the quality of service. In short, BE PROFESSIONAL.
Make sure the client, you meet for the first time easily remembers your firm name and hardly forgets your service. This will help you with 'word-of-mouth' marketing.
Word-of-mouth marketing is the best marketing strategy for small law firms.
"The best marketing is word-of-mouth. I still get about half of my clients from word-of-mouth. Past clients are the best source for getting new clients!" – Jonathan G. Stein, owner, Law Offices of Jonathan G. Stein
Create Educational and Social Campaigns and Launch Them at the Right Places
Providing education concerning the service of your law firm is the right way to attract clients. You may launch several educational campaigns on Radio, Tv, and Newspapers, or participate in different social activities within your locality.
Through this people will notice your existence, understand your service, and need your help.
'For our law firm, we have found that we gain the most traction through writing timely educational articles about estate planning-related issues…….."- Matthew J. Tuller, Principal Attorney, and Owner at the Law Office of Matthew J. Tuller
Website and Blog
According to a survey conducted by Jurisdigital, 49% of people are researching their legal issues online before finding an attorney.
With this 'dot com' generation having a website and blog is essential when it comes to online marketing.
Have a well-designed website to showcase your service and expertise.
Make sure your website is SEO optimized for organic traffic and set up a 'Google my Business listing' to enhance the discovery of your service online.
There are a lot of experts to help you with this issue.
Further, you may consider having a blog going side to side with your website. On your blog publish great content that answers the user questions.  Make sure the contents are relevant and engaging.
Learn how to start a law blog (step by step) that attracts a ton of visitors and makes money as soon as possible here.
Social Networks
Most people are now interacting through social networks. Make sure your law firm has an account on every popular social network to enhance your firm visibility online.
Engage with other users who are relevant to your service.
Create regular, brief videos for Facebook, YouTube, Instagram Reels, TikTok, and Pinterest. Answer queries in a timely and courteous manner, and you'll gain a following that will eventually lead to requests for your services because they will perceive you as an authority.
Further, you may use your social network account to promote your blog posts.
Claim Your Business On Google
A profile that appears on Maps and in a separate box on the right side of the search results page is created when you claim your business on Google.
This enables you to give complete information about your company and the services you provide, as well as making it simpler for customers to find and get in touch with you.
Customers can rate your company on Google, and these evaluations and comments can help your company gain authority and confidence from the public.
You may read this article from google to learn how you can claim your business on google now.
Email marketing
According to Hubspot 86% of professionals would rather use email for business purposes than any other communication format and 59% of marketers report that email is their most effective channel for revenue generation
That is not the end of our story
The good news?
The number of global email users is set to grow to 4.48 billion users by 2024.
In the modern world, online marketing is undoubtedly becoming a significant development avenue for law firms, but the majority of them still largely rely on word of mouth and referrals.
The crossroads of these two industries is where email marketing is located.
It is an online marketing strategy made to make it simple for businesses to stay in touch with a vast network of individuals, so enhancing the power of word-of-mouth advertising.
Email marketing may play a significant role in your overall digital marketing strategy if done effectively.
It is reasonably priced and frequently generates a significant return on investment.
If you want to learn more about how you ca skyrocket your email marketing strategies read this wonderful article from crisp.co
Final Remarks
Establishing your law firm is a big step. Running it might be challenging, if you're determined enough and have the courage to stand out you will make it. Quitting should not be your option. Be careful not to quit 'three feet from gold'.
Be patient and focus on doing the right things. You will make it.
Apply the insights you find useful in this post plus any other resources, to keep you motivated and help you pursue your career.