What should an employee file contain & why? [2023]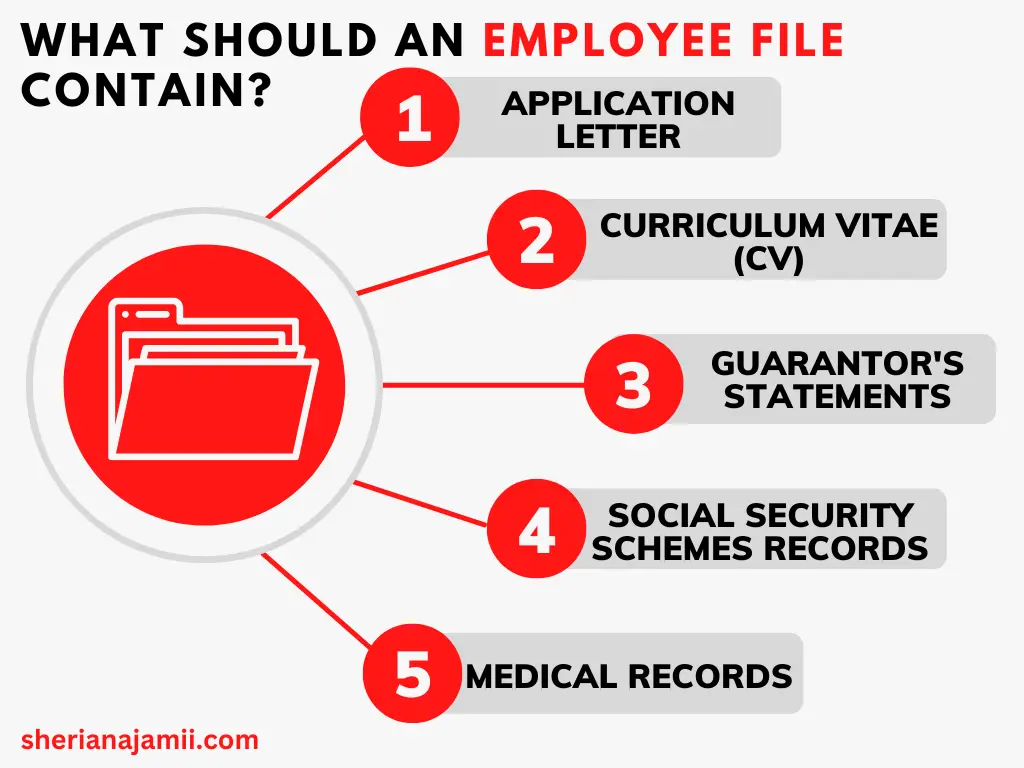 This is the most complete guide to employee files/ personnel files.
In this guide, you will learn;
Meaning of Employee File
Why employee file is necessary
Types of employee files
What should an employee file contain and its importance?
Where to Keep Employee File
What Shouldn't Be In Employee File?
Who Has the Right to See/access Employee Files?
Is It Mandatory to Keep employee Personnel Records?
How Long To Keep Employee File
etc.
Let's dive right in
Meaning of Employee File
Transform Your Communication, Elevate Your Career!
Ready to take your professional communication skills to new heights? Dive into the world of persuasive business correspondence with my latest book, "From Pen to Profit: The Ultimate Guide to Crafting Persuasive Business Correspondence."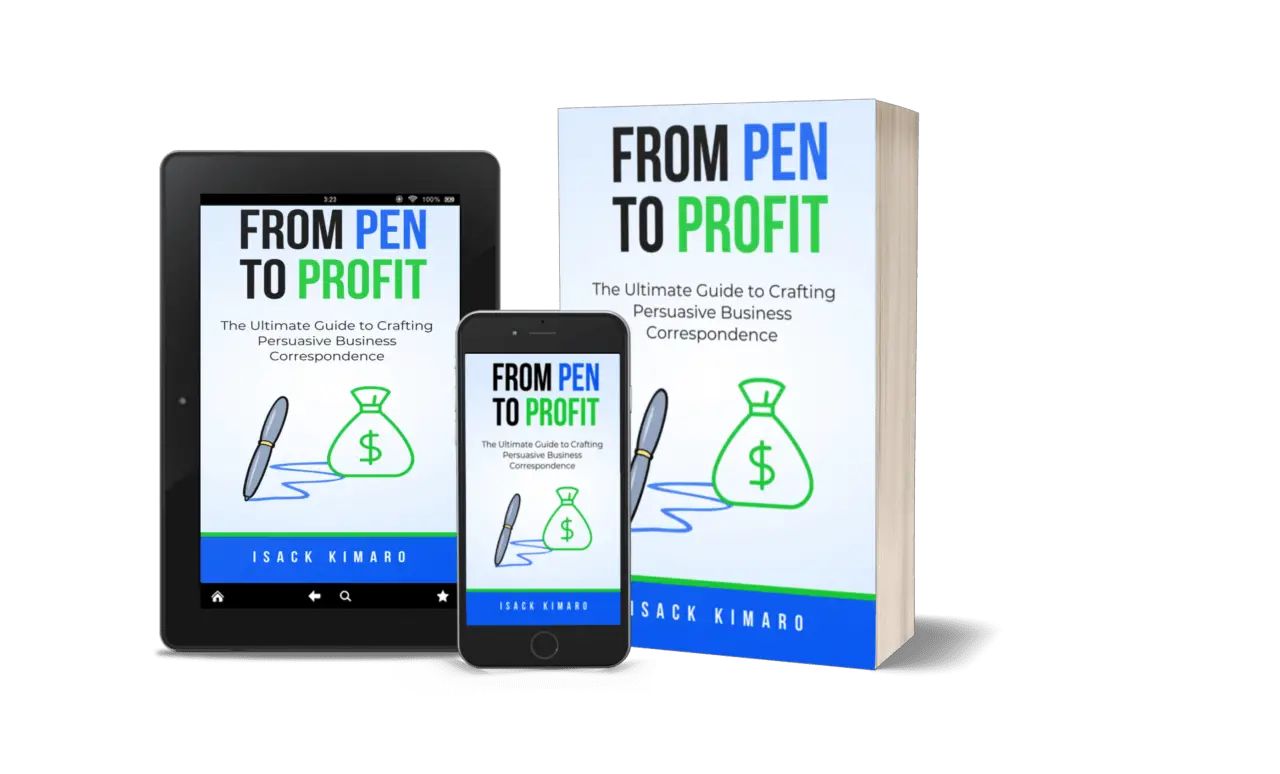 An employee file simply means a set of documents that contain all relevant information about the history of an employee under the employer's business or organization.
Employers typically keep a number of different employee records, often called employee files or personnel files or employee personnel files, as a way of documenting an employee's relationship with the employer.
Reasons to keep Employee File
It is important for an employer to keep and maintain employee personnel files for each employee within the business because;
The content of the personnel file provides a historical overview of the important events happening during an employee's career.
They provide important supportive data in case a lawsuit is brought against by a disgruntled or former employee as they demonstrate the employer's rationale behind hiring, promotions, transfer, rewards, and firing decisions.
The personnel file can also track performance development goals, appraisal, leave of absence, disciplinary notices, and any employment-related agreement.
Responsible and careful employers keep more than one personnel record, as each type of file has content that is appropriate for their purpose.
Types of Employee Files
There are two types of employee personnel files that are; personal files and confidential files.
A personnel file is a type of file that contains employee basic information, hiring documents, job performance development, termination, and Post – Employment information as well as compensation.
A confidential File contains confidential Information about the employee separate from the personnel file such as Medical Records and workers' compensation claims, a document pertaining to an employee investigation such as a disciplinary action and background check.
What should an employee file contain?
Employees' file contents will vary from one person to another, but generally, there are a few key aspects that should be included
The following hereunder are the important Check-List Documents that should be included in the employee file and their importance.
Application letter
It is very important on a contractual basis as it acts as an offer (i.e. an expression of an employee's willingness to work for or with an employer).
Curriculum Vitae (CV)
Provides one's work history, areas of strength and weakness are noted therein. However, it provides quick reference when it comes to improving employee skills (through career development programs/opportunities).
Photo
Gives an employer quick identification of an employee when it comes to emergencies of any nature, especially for administrative use. Therefore it is strongly advised all files of employees to include their passport-size photos.
Referee/Reference/Guarantor's Statements
Assures an employer with the exact work perspective statements from those who have worked with or trust the integrity and work capability of the job candidate/holder before and during the employment repletion.
JD (Job Description)
Allows both parties to be specifically aware of the job demands, directions, and chain of command/responsibility.  It is a useful tool/mark when conducting performance assessments.
Local Government Letter
Allows certainty on an employee's domicile. It is very useful for an employer when it comes to repatriating an employee in the event of termination of employment.
Social Security Schemes Records
All employees must be deducted and be enrolled on any of the recommended Social Security Schemes as required by state law. Compliance thereto protects the company from facing legal penalties.
Letter of offer
It starts the employment relationship off on a positive note and it is the legal basis for employment.
Contract
Specifically states the nature/type of work relationship that exists between the two parties.
Therefore, for balanced, accurate, and fair future decisions the employer must prepare a written statement of particular about the said relationship as per the dictates of Labour Laws of a certain country or state.
See: Contract of employment (guide + samples)
Commencement & End Dates
Reminds both parties about a service period that both have shared and whether the said duration is due or not. However, fixed-term employment contracts alert the HR department on renewal or non-renewal of the employee's contract. Moreover, it provides a guide when calculating contract terminal dues.
Annual Leave Form & Records
All annual leave records of the company's employees remain to be on accountable to the employer. Therefore these records need to be kept well and all employees must be advised to take their annual leaves every year without unnecessary accumulation.
Personal Data
Provides summary information about the employee. His family records (Status), educational background, emergency contacts, and contact persons. Very useful when it comes to "emergency leaves" and "maternity/paternity leaves; Compassionate Leaves and other related matters.
Birth Certificate
Guides the employer in recruitment logistics, retirement age determination, and other administrative uses.
Loan Records
Help an employer and employee to keep track of the pending charges or dues/debts. This will depend on the company's loan policies.
Marriage Details
Very useful when it comes to the legality of exercising "Paternity leaves" and employee benefits.
Appraisal Records
An employer is advised to conduct a performance assessment of the employees at least twice a year.
This assures the company of potential candidates on the succession plan.
It enables an employer to determine whether an employee adds value to the business for further management decisions.
Exit Interview
It helps an employee to glean feedback from employees in order to improve aspects of the organization, better retain employees, and reduce turnovers.
Resignation / Termination Letter
Serves the purpose of prima facie evidence of cessation of the employment relationship.
All disciplinary actions that are taken against employees need to be well recorded in personal files. They help to justify, where the need is, the management disciplinary courses of action.
Medical Records
Provide a good track of records for observance of an employee's right to "sick leave". Therefore it is strongly advised to keep such records on employees' files so as to keep track of absenteeism tendencies, manage work discipline, and employee sick leave balances.
What Shouldn't Be In Employee File?
Generally, any information that is not relevant to the employee's role such as ethnicity or details about an employee's disability as well as criminal history is advised not to be included in a file.
Where to Keep Employee File
Since personnel file contains sensitive information about an employee, it has to be kept confidential by HR either by the way of failing them within the Cabinets or Electronically through the use of HR – SOFTWARE that secures and limit people can access personnel files anywhere.
Who Has the Right to See/access Employee Files?
Personnel the file is the property of an Employer but can be accessed by the employee.
Therefore, access to see the personnel file is authorized only to HR staff, and Employee whose data are contained within the file.
Is It Mandatory to Keep employee Personnel Records?
YES it Mandatory to Keep employee Personnel Records.
Each covered, nonexempt worker's employer is required by the Fair Labor Standards Act (FLSA) to keep specific employee Personnel Records.
The records do not need to be in any particular format, but they must contain correct information on the employee as well as information regarding the hours worked and the pay received.
How Long To Keep Employee File
According to US Equal emplyment oportunity Comision regulations the following is how long the emplyeer should keed the employeer file
employers shall keep all personnel or employment records for one year
If an employee is involuntarily terminated, his/her personnel records must be retained for one year from the date of termination.
All payroll records must be kept by employers for a minimum of three years.
Any written seniority or merit system as well as pension and insurance plans for employees must be kept on file by employers for the duration of the system's existence as well as for at least a year following its termination.