Change of name by deed poll 2024 (guide + free samples)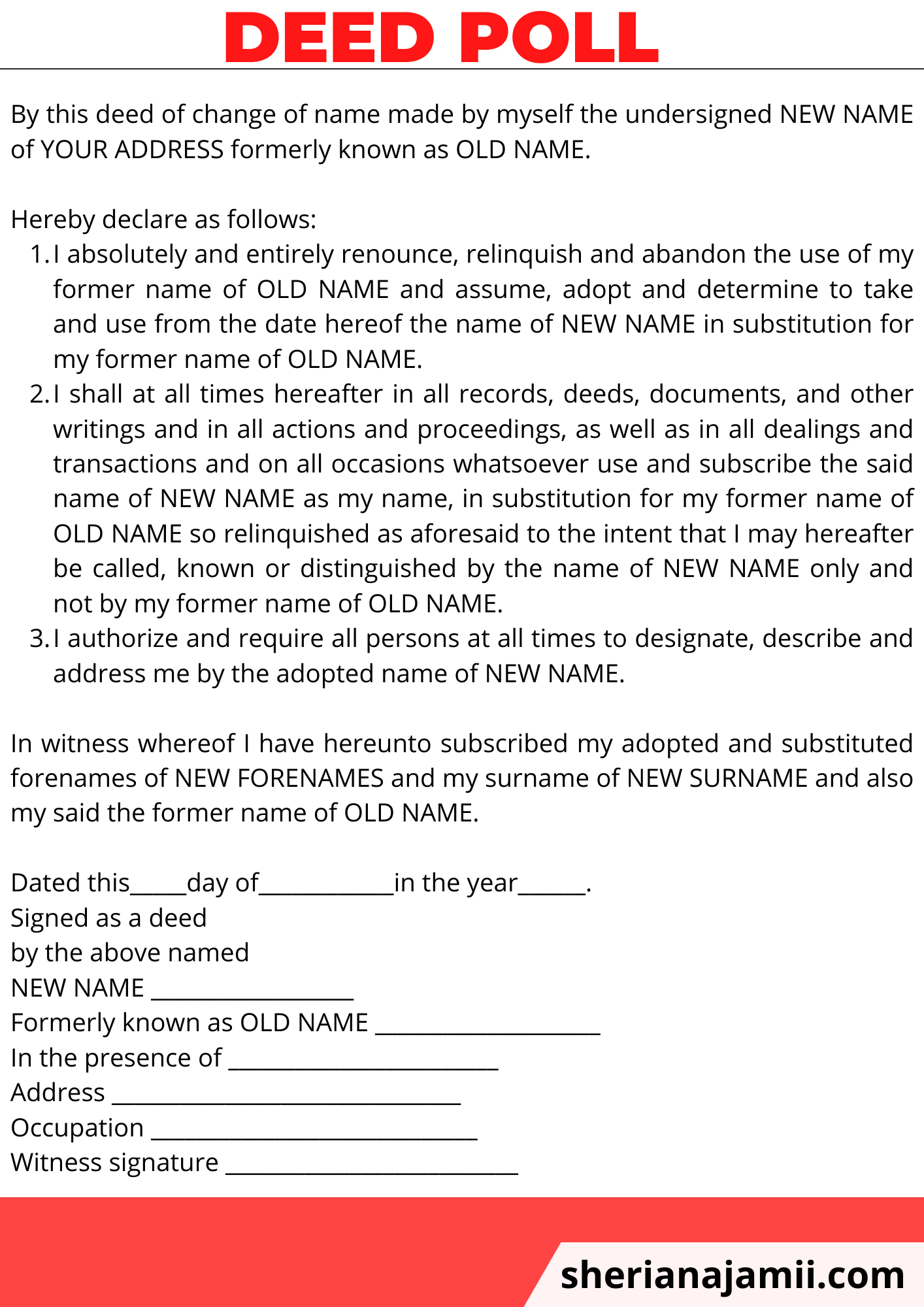 This post covers everything you need to know about the change of name by deed poll.
In this guide, you will learn
what is a deed poll
how to change the name by deed poll
sample/ example of a deed poll
etc.
What is a Deed Poll?
A deed poll is a unilateral legal document used specifically for the change of a person's name.
Transform Your Communication, Elevate Your Career!
Ready to take your professional communication skills to new heights? Dive into the world of persuasive business correspondence with my latest book, "From Pen to Profit: The Ultimate Guide to Crafting Persuasive Business Correspondence."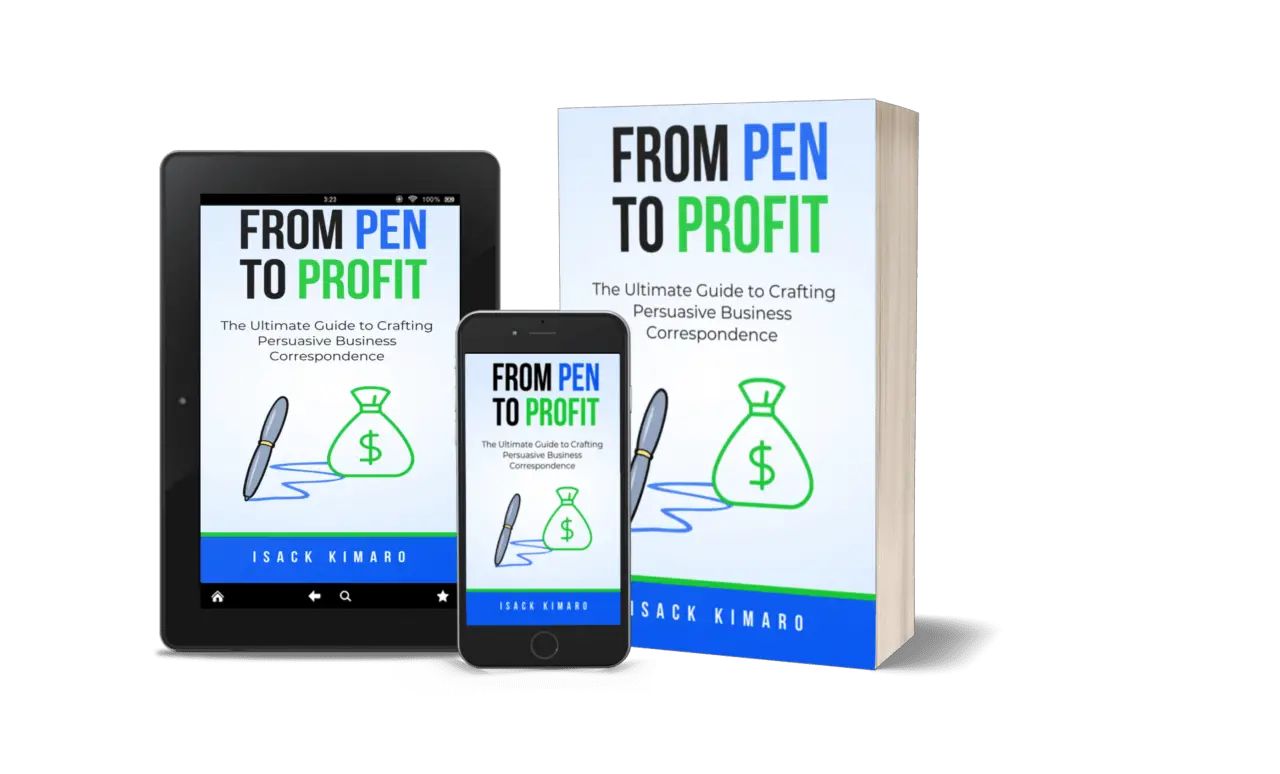 It is called a unilateral document because it only binds one person i.e a person who swears/affirms to change his/her name.
When do you need a change of name by deed poll?
You can use deed poll to;
change your first or last name
To add a new name
To rearrange your name
To correct the spelling of your name
etc.
According to the UK deed poll office, the purpose of the deed poll is to demonstrate that you've started using a new name, to show that you've given up your old name, and to confirm the date you started using your new name.
Why the change of name by deed poll?
On occasion, you may want to leave and abandon your former name and adopt a new name.
This may be due to;
marriage (you wish to use your spouse's name)
Change of nationality,
the inconsistency of names on your important certificates
gender change
change of religion
etc
The aim of a deed poll is to legally handle the process of changing your name and make your new name legally accepted.
Therefore when a person wishes to change his name he must swear a deed poll.
Change of name by deed poll cost
Generally costs of change of name by deed poll will differ depending on how you have get that deed poll.
For unrolled deed poll i.e a deed poll that you have made yourself the cost is £000 (zero)
But remember, in the UK to make your own deed poll, you must be at least 16 years old.
In addition to that, Some organizations might not recognize your own deed poll as evidence of your new name.
Check with the company you are dealing with to see if they accept unrolled deed polls.
For an enrolled deed poll, the cost is £42.44
You can put your new name on public record by 'enrolling' it at the Royal Courts of Justice if you're 18 or over. It costs £42.44 and cheques should be made payable to HMCTS.

www.gov.uk
For change of name by deed poll made by a specialist agency or a solicitor, the fees will vary depending on the specific agency or solicitor but it generally ranges from £100-£500
For example
Samuels Solicitors LLP charges a fixed fee of £300 plus VAT to prepare a change of name deed and provide you with certified copies of the deed to present to the relevant organizations (such as the passport office, DVLA, banks and building societies, etc.)
Samuels' fixed charge for drafting the enrolment deed and related paperwork is just £200 plus VAT.
What happens after a change of name by deed poll?
After duly charging your name by deed poll, you can start to use your new name immediately.
That means you have to stop using your old name and use the deep poll as evidence to support the use of your new name.
Further, after the formalities for changing your name by deed poll, you are advised to inform any person or institute that you are dealing with, about the change of your name.
The important place to inform about your change of name includes;
Your bank and other financial institution
Your employer
Post offices
Immigration
A business that provides you with utilities
etc,
Qualities of Deed poll
The common traits of deed poll in common law countries are
It must be on legal paper.
It must be attested by the commissioner for oaths.
It must be registered by the relevant authority to be effective.
Change of name by deed poll example
DEED POLL 
By this deed of change of name made by myself the undersigned NEW NAME of YOUR ADDRESS formerly known as OLD NAME.
Hereby declare as follows:
I absolutely and entirely renounce, relinquish and abandon the use of my former name of OLD NAME and assume, adopt and determine to take and use from the date hereof the name of NEW NAME in substitution for my former name of OLD NAME.
I shall at all times hereafter in all records, deeds, documents, and other writings and in all actions and proceedings, as well as in all dealings and transactions and on all occasions whatsoever use and subscribe the said name of NEW NAME as my name, in substitution for my former name of OLD NAME so relinquished as aforesaid to the intent that I may hereafter be called, known or distinguished by the name of NEW NAME only and not by my former name of OLD NAME.
I authorize and require all persons at all times to designate, describe and address me by the adopted name of NEW NAME.
In witness whereof I have hereunto subscribed my adopted and substituted forenames of NEW FORENAMES and my surname of NEW SURNAME and also my said the former name of OLD NAME.
Dated this_____day of____________in the year______.
Signed as a deed
by the above named
NEW NAME __________________
Formerly known as OLD NAME ____________________
In the presence of ________________________
Address _______________________________
Occupation _____________________________
Witness signature __________________________
Deed Poll Sample
DEED POLL
This change of name deed made this 10 day of November 20… by me, the undersigned now, or lately called John Michael Strain, a UK citizen and it is hereby declared as follows: –
I absolutely and entirely renounce, relinquish and abandon the use of my said former name of John Michael Strain and assume, adopt, and determine to take and use from the date hereof, the name of Michael Michael Strain in substitution for my former name of John Michael Strain
I shall at all times hereafter in all records, deeds, documents, and other writing and in all actions and proceedings as well as in all dealings and transactions and on all occasions whatsoever use and subscribe the said name of Michael Michael Strain as my name in substitution for my former name of John Michael Strain so relinquished as aforesaid to the intent that I may hereafter be called and known or distinguished not by the former name ofJohn Michael Strain but by the name of Michael Michael Strain
I authorize and require all persons at all times to designate, describe and address me by the adopted name of Michael Michael Strain
In Witness Whereof I have hereunto subscribed my adopted and substituted names of Michael Michael Strain
Signed and Delivered by the above-named Michael Michael Strain Formerly known as John Michael Strain
This 10 day of November 2021
BEFORE ME:
Name Alyce Johnson
Designation: Commissioner for oath
Signature: ___________________
Date:
See also: Power of attorney sample