What is an Affidavit of birth?
Affidavit of Birth is a legal document that contains facts that show/prove the circumstance of birth of a certain person. It is used instead of a birth certificate. That's means you don't need this affidavit if you have a birth certificate.
This Affidavit is always sworn or affirmed by the third party as proof of the birth of another person.
That means you can't swear or affirm facts adduced on your Affidavit of Birth but a person who knows important information about your birth can do.
It can be father/mother/, grandfather/grandmother, brother/sister/, uncle/aunt, cousin, nephew/niece, or any near relative.
This document may be required in the passport application process, adoption, employment, pension funds, academic issues, etc.
Currently, the use of this affidavit is not very common since most agencies prefer a birth certificate however the use of this document is still allowed when circumstance renders it necessary.
Affidavit of birth sample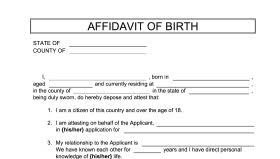 AFFIDAVIT OF THE BIRTH OF John Marko Samuel 
I, Marko Samuel Mandi of Post Office Box Number 100 Dar es salaam do hereby make oath/solemnly affirm and states as follows:
That I am the father/mother/grandfather/grandmother/brother/sister/aunt/cousin/nephew/niece/near relative of; John Marko Samuel
That the said John Marko Samuel was born at Ibaga in Mkalama District, Singida Region, Tanzania, on the 10th day of May  1980 and I had personal knowledge of/I was present immediately after the birth of the said John Marko Samuel and I remember the occasion or I was informed of the birth of the said John Marko Samuel by Mariam Gunda who is father/mother/grandfather/grandmother/brother/sister/uncle/aunt/cousin/nephew/ nice/near relative of the said John Marko Samuel And that the said John Marko Samuel  is/was born male/female
Signed………………………………
DEPONENT
Sworn/Affirmed by the said Marko Samuel Mandi at.Dar es salaam this 03 day of May 2021
BEFORE ME:
Name:.………………………………. Designation: Commissioner for the oath
Signature…………………………….. Date…………………………………..
NB: the word sworn is used for Christians and affirms is used for Muslims and pagans
You may also consider the following samples of the affidavits
Sample of Affidavit for verification of citizenship and marital status